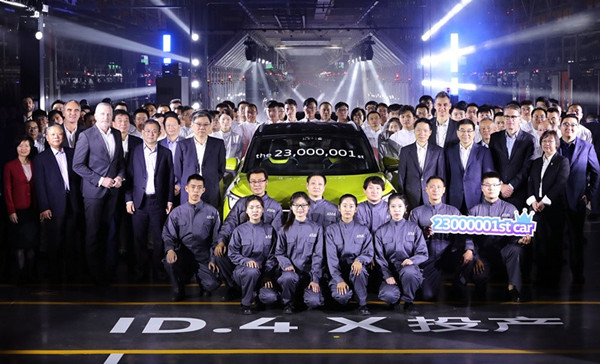 The Volkswagen ID.4X, which is SAIC Volkswagen's 23 millionth vehicle, rolls off the assembly line in Jiading, Shanghai, on Oct 26. [Photo provided to chinadaily.com.cn]
Jiading district in Shanghai has beefed up its efforts to promote the development of the new energy vehicle (NEV) sector during the 13th Five-Year Plan (2016-2020) period, aiming to develop it into an industry base for the research and development (R&D) and manufacturing of NEVs.
Statistics have shown that the annual output value of Jiading's NEV sector rose from 5.53 billion yuan ($841 million) in 2016 to 11.14 billion yuan in 2019, an annual growth rate of 18.4 percent. Local authorities said that Jiading has developed into a major NEV production base in Shanghai, the output value of which accounted for nearly 50 percent of Shanghai's total amount last year.
Over the past five years, Jiading has fully exploited the potential and accelerated the transformation and upgrading of its automobile industry.
The global auto market has shown slow growth since 2018, and Jiading shifted its focus from the traditional auto sector to NEVs, achieving the transformation and upgrading of traditional related industries to strategic emerging ones.
Jiading has also rolled out measures to boost the development of hydrogen fuel cells since 2016, and a characteristic industrial cluster for fuel cell vehicles has been cultivated in the district, gathering 45 upstream and downstream enterprises related to hydrogen fuel.
Jiading cooperated with SAIC Motor, Huawei and China Mobile in 2019 to build the world's first 5G-based smart transport demonstration project, which will speed up the application and promotion of 5G intelligent connected vehicles (ICVs).
The second phase was launched in September, and the four parts have vowed to deepen cooperation and build a smart road with full 5G signal coverage in Jiading, in an effort to make the district a world-leader in the application of 5G ICVs.
Jiading district is home to the National Intelligent Connected Vehicle (Shanghai) Pilot Zone, the first of its kind in the country. The pilot zone was approved by the Ministry of Industry and Information Technology in June 2016. It serves as a safe place for domestic ICVs to conduct road tests.
Currently, the district has opened 53.6 kilometers for road testing of ICVs, covering 65 square kilometers with full 5G signal coverage. The test road is also equipped with an advanced smart transport system, including a high-definition map, a vehicle-to-everything system, and a holographic road sensing system.
Jiading district announced it would build 3,000 5G base stations and open 1,300 km of road for the testing of ICVs by the end of this year, which will cover 463 sq km and offer full 5G signal coverage, according to statements by the district's authorities at the 2020 World Autonomous Vehicle Ecosystem Conference held in Shanghai this September.