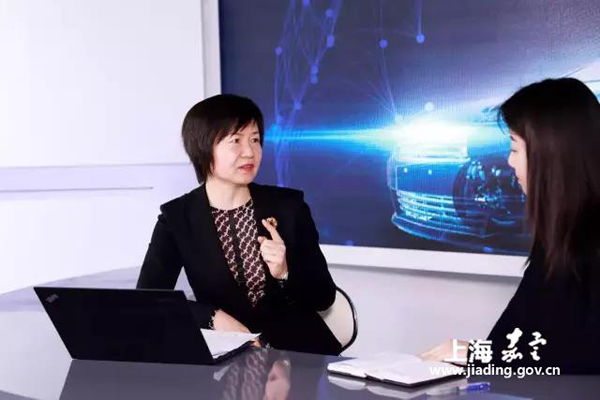 Lu Zufang, deputy head of Jiading district, talks about the development of automobile industry in Jiading. [Photo/jiading.gov.cn]
Jiading district in Shanghai city has been committed to developing its automobile industries for more than 60 years, forming a complete industry chain and accumulating an extensive and experienced industrial base.
It was in this district that the first Chinese car was made in early 1958. In 1984, it became the home of China's first Sino-foreign joint venture with Volkswagen. In 2010, the district initiated the construction of Shanghai International Automobile City and, as of now, the automobile industry has become Jiading's signature industry.
In 2018, the automobile industry had an output value of 440.588 billion yuan ($65.43 billion) in Jiading, accounting for 72.9 percent of the total value of industrial enterprises above designated size in the district and 70 percent of the total value of Shanghai's automobile industry. The tax gained from automobile production and the sales chain accounted for 38 percent of Jiading's total tax revenue.
"The automobile industry in Jiading boasts a complete industry chain, advanced technologies, a high capacity of innovation and lots of talents," explained Lu Zufang, deputy head of Jiading district.
Lu further noted that the district is today home to more than 300 enterprises of complete vehicle and automobile parts, including Shanghai Volkswagen, SAIC Motor and Volvo, as well as more than 100 scientific research institutions, research and development centers, high-tech enterprises, an Auto Innovation Park and other innovative platforms. There are also a number of public service platforms, such as the country's only automotive wind tunnel in, an auto test center and closed test area for vehicles.