Six hydrogen fuel cell buses were put into use at the No 114 bus line in Shanghai's Jiading district on Sept 27, which are the first of their kind in Shanghai.
"The hydrogen fuel cell buses in operation marks the beginning of a new stage in the development of fuel cell vehicles of Shanghai after more than ten years of preparation," said Gan Pin, deputy director of Shanghai Municipal Scientific and Technological Commission.
Jointly developed by Chinese automakers SAIC Motor Corp and Shanghai Sunwin Bus Co, the bus is roomier than the normal ones, with a length of nearly 12 meters, a width of 2.5 m and a height of 3.5 m.
It is equipped with the fuel cell as its main power source as well as the power battery, and can store 21 kilograms of hydrogen with a maximum driving range of 560 kilometers. Its emissions are clean water with no environmental pollution.
The realtime monitoring system of hydrogen concentration, the protection system of automatically cutting off the hydrogen supply, the collision protection system and other devices equipped on the bus ensure its safety and reliability.
Despite all these features, the hydrogen fuel cell vehicles cost no more than the normal cars.
"The cost of hydrogen fuel cell vehicles is expected to be similar to that of plug-in hybrid vehicles once put into mass production," said Wu Zhixin, vice-general manager of China Automotive Technology & Research Center.
It is expected that there will be 3,000 fuel cell vehicles put into operation in Shanghai by 2020. Altogether 50 hydrogen refueling stations will be built by 2025 and the amount of passenger vehicles in use will exceed 20,000. The fuel cell vehicle industrial chain of Shanghai will be formed by 2030 and have an influence across the whole country.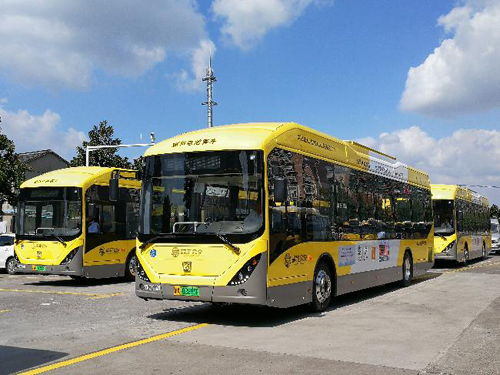 The hydrogen fuel cell buses are put into use at the No 114 bus line in Shanghai's Jiading district on Sept 27. [Photo/eastday.com]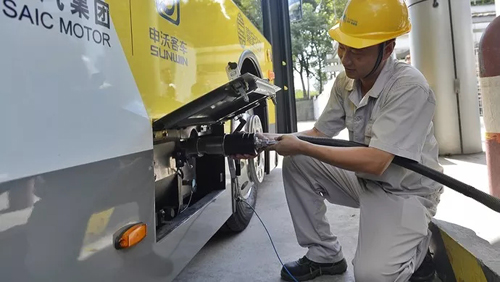 The staff refuels the hydrogen fuel cell bus at the hydrogen refueling station in Jiading district, Shanghai. [Photo/WeChat account: nanxiang2000]