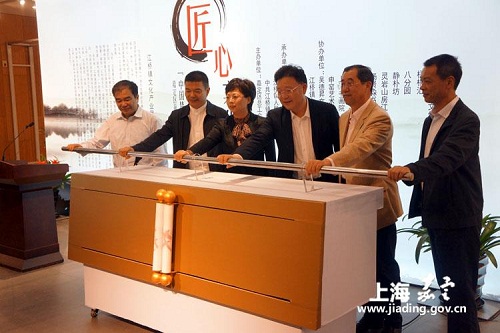 Authorities in Jiangqiao town, Jiading, Shanghai, announce the opening of the exhibition displaying the town's cultural products on Oct 18. [Photo/jiading.gov.cn]
An exhibition displaying Jiangqiao's cultural industry opened in Jiangqiao town, Jiading district of Shanghai, on Oct 18, which is set to end on Nov 10.
More than 60 exhibits including ceramics, calligraphy and paintings, sculptures, furniture, guqin (a traditional Chinese musical instrument), enamel, and creative cultural products are on display.
The exhibit shows the exquisite skills of local craftsmen and artists as well as the abundance of Jiangqiao's cultural industry.
China's jade carving master Wu Desheng, one of the exhibitors, shared his feelings towards attending such an exhibition at the opening ceremony.
Activities such as making ceramic objects, playing guqin, and creating calligraphy works were launched on the opening day, helping visitors gain better understanding of the town's cultural industry.
Over the past years, Jiangqiao has been dedicated to developing its cultural industry. Five main cultural industries featuring paper, wood, stone, cloth, and ceramics have formed, generating a batch of related cultural landmarks such as Wu Desheng Culture and Art Center, Shen Kiln Art Center, North Hongqiao Creative Cultural Park, creation base for China National Academy of Painting, North Hongqiao Fashion Park, a traditional wooden style furniture museum, and Shanghai Painting and Calligraphy Academy.