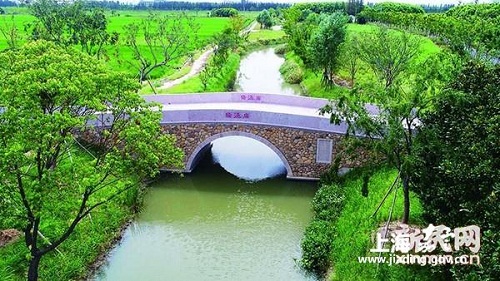 A carefully designed and landscaped bridge at the North Jiading Country Park in Jiading district of Shanghai [Photo/jiading.gov.cn]
The new North Jiading Country Park in Jiading district of Shanghai integrates farmland, villages, forests, rivers, and roads, showing visitors the beauty and charm of rural landscape.
The park, covering a total of 14 square meters, will open its first stage of 7.39 square kilometers on Sept 23, when a family marathon running will be launched to mark the opening.
Attractions of the first stage include a 800 mu (53.3 hectares) of forests, a 4,500-square-meter colorful paddy field, a river network stretching 20 kilometers, three avenues lined with trees such as red maples and cedars, an 800-meter wisteria corridor, a 65-mu field of flowers, and 19 carefully designed and landscaped bridges.
Four themed forests are available at the park. One is designed to be a playground for children, housing nearly 20 entertainment facilities such as tunnels and artificial hills, sand pits, a maze, water sports facilities, and play areas.
One is themed on love, one is used as a bird habitat, and the last one is for leisure and entertainment.
The remaining areas of the park will be open to the public gradually over a five-year period, according to operator of the park.
Chen Xijun, chief engineer of the park project, said that the park shows the preservation of natural rural resources such as farmland and villages and aims to be a good choice for urban people to relax and enjoy rural life.
The park is the first of seven new country parks planned by the Shanghai Municipal Government. The project aims to protect Shanghai's natural environment, give residents additional green spaces, and promote the city's tourism.
The term 'country park' originated in the United Kingdom in the 1970s and was a means of offering ordinary people the chance to experience natural, rural landscapes drastically different from urban environments. With 70 percent of China's population forecasted to be living in cities by 2025, the need for expansive and immersive green spaces in China is more important than ever.