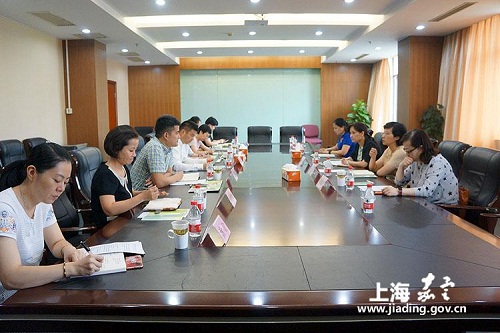 Officials from Jiading education bureau, Jiangqiao government, and Huangpu education bureau host a meeting in Shanghai on Aug 15 to discuss education cooperation. [Photo/jiading.gov.cn]
Jiangqiao town in Shanghai's Jiading district agreed to strengthen cooperation with Huangpu district on education during a meeting between the two districts' education authorities and the Jiangqiao government on Aug 15.
The officials agreed that Huangpu's high-performing Luwan No 1 Primary School would use its quality teaching resources to help Jiangqiao's Jiataolu Primary School further its development.
Luwan No 1 Primary School is a century-old school that boasts a talented group of teachers. Its "Cloud Class" project, which integrates information technology into the classroom, is one of the leading initiatives of its kind in China and has gained nationwide publicity.
Jiataolu Primary School is a new school that started operation last September. It currently has 30 classes and nearly 1,000 students.
The agreement is in line with China's education development strategy of using the leading educational resources of downtown areas to help institutions in suburban areas.
Officials from all three governments welcomed the deal.
Yao Wei, director of Jiading education bureau, expressed his expectations for the educational cooperation between the two districts and talked about cooperation standards, teacher recruitment and team operation.
Yao Xiaohong, director of Huangpu education bureau, introduced the history and current situation of the district's education development. She said that she was looking forward to further discussions on cooperation models, curriculum design and other aspects.
Wang Jie, Party secretary of Jiangqiao, expressed his hopes for improving the teaching quality of the local school based on the cooperation. He also proposed to share cultural resources between the two primary schools.