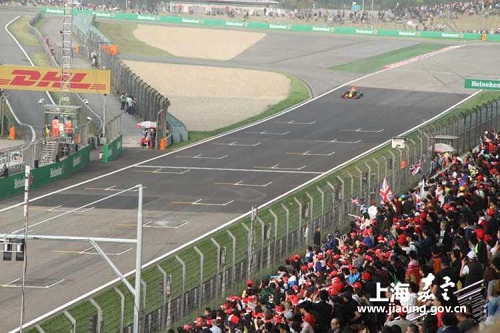 The Formula One Chinese Grand Prix takes place at the Shanghai International Circuit on April 7-9. [Photo/jiading.gov.cn]
The curtain was raised on the 2017 Shanghai Auto Culture Festival, spanning more than a month, on April 7 in Shanghai's Jiading district.
The festival has a total of 13 activities on hand, and aims to give auto fans a great experience while enabling visitors to enjoy the beauty of Jiading.
Let's take a look at the major events of this year's auto culture festival.
Watching Games • Touring Jiading – Jiading Tourism Promotion
During the F1 Chinese Grand Prix, the Jiading Tourism Bureau will showcase its resources by organizing trips to the Shanghai International Automobile City in Anting town, Nanxiang Ancient Town, Huating town's rural landscaping, and many other attractions in Jiading.
Date: April 7-8
Venue: Attractions in Jiading district
Ferrari's 70 Anniversary Exhibition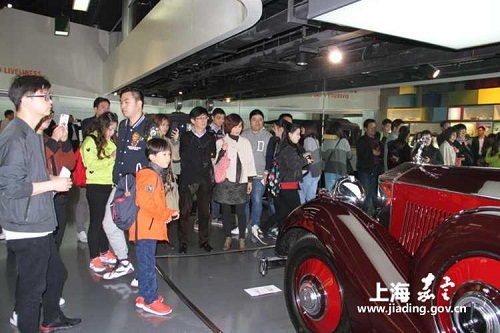 A vintage car exhibition opens in Anting town, Shanghai's Jiading district during the 2017 Shanghai Auto Culture Festival, attracting a large number of visitors. [Photo/jiading.gov.cn]
An auto culture exhibition, spanning half a year, will be held at the Shanghai Auto Museum at the end of April in celebration of the 70th anniversary of Ferrari. The evolution of Ferrari's design, technology, and auto sports participation over the past seven decades will be presented in the exhibition. The exhibits will include about 15 to 20 of the company's classic cars, some of them limited editions.
Date: April – October
Venue: Shanghai Auto Museum
Shanghai International RT&RV Camping Expo
The expo, with the theme of "Loving Life, Loving Travel and loving Road Trips", is the largest of its kind in Shanghai. Its exhibits cover self-driving cars, recreational vehicles, outdoor equipment, and related tourism resources. Attendees will include tourism bureaus, travel-focused e-commerce platforms, hotels, resorts, travel agencies, media, and airlines.
Date: May 12-14
Venue: Shanghai Automobile Exhibition Center
Color Painting Art Workshop
A workshop to explore the fun of painting by coloring eggs with environmentally-friendly luminous coatings has been launched every weekend in Anting.
Date: March 18 – April 16
Venue: Jiatinghui Life Hub at Anting