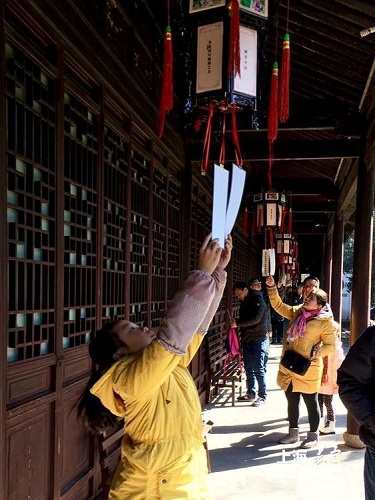 Residents read riddles attached to lanterns at Shanghai's Jiading Confucius Temple on Feb 12. The event is held to celebrate the Lantern Festival. [Photo/jiading.gov.cn]
Shanghai's Jiading Museum launched a lantern riddle guessing activity at the Jiading Confucius Temple on Feb 11 in celebration of the Lantern Festival.
Hundreds of lanterns with pieces of paper containing riddles were hung around the temple and it certainly helped to create a festive atmosphere. This year's event in Jiading Museum attracted more than 16,000 visitors, a clear sign of its popularity.
The riddles were related to famous residents from Jiading, traditional culture, history and customs. It was hoped these questions would help to further the visitors' understanding of the region. The museum provided small souvenirs for visitors who answered the riddles correctly.
Riddle guessing is a traditional activity that has taken place around the Lantern Festival since ancient times. The Lantern Festival falling every year on the 15th day of the first month of the Chinese lunar calendar. The festival is held to mark the first full moon of the new lunar year and is celebrated by Chinese people through hanging colorful lanterns, playing games, and gathering with friends to eat glutinous rice balls known as yuanxiao.