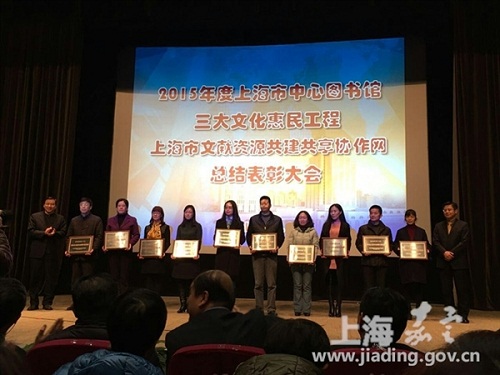 Representatives from Shanghai's libraries including Jiading receive awards at an awarding ceremony. [Photo/jiading.com.cn]
Due to its high-quality cultural services for local residents, Jiading library in Shanghai recently received recognition as an advanced collective in 2015 during the annual evaluation, local news portal reported on Dec 28.
With the aim of providing local people more convenient and efficient services, the library has added a string of facilities, such as a new book house without enclosing walls, a 24-hour self-service library, smart libraries at the metro stations and shopping areas, and 12 library branches in local streets and towns.
In addition, it also adopted the cloud service, which is now on a sound track, enabling the residents to look up its digital resources at home.
The library has also organized a variety of activities to stimulate local people's interests in reading, including reading contests for Chinese traditional classics, culture lectures, classical music appreciation and storytelling for children.
Those activities help increase the influence of the library and attract more people to take part in its reading promotion campaign, said the library authority.
The authority also added that with a reader-centered service philosophy, the library will continue to offer more cultural services to local people.