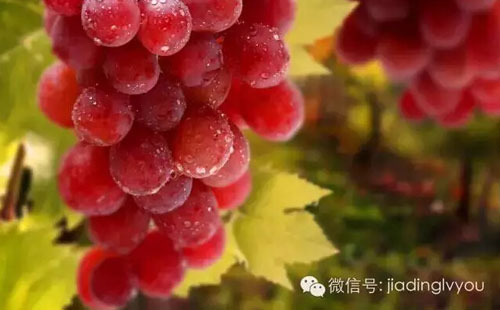 Talking about grape, many people see it beyond being a fruit. They can easily relate it to wine. Apart from making wine from grapes, grapevine shoots can be used to make tea, which sounds even more exquisite than wine.
In March, when the grapevine sprouts in the Malu Grape Theme Park, workers will pick redundant shoots, then bake and fry them to make grape tea, a special local tea in Malu town of Jiading. Tourists can have a taste of it during the vintage. However, a very limited number of vineyards produce grape tea because it requires large amount of shoots and highly professional processing techniques. Therefore, enjoying this unique tea makes it an indispensable part of summer tours in Jiading.
The 2015 Exhibition and Seminar on early-maturing grape types in the Yangtze River Delta and the 15th Malu Grape Festival kicked off on July 3. The activity will last until October 8.
In comparison, this year's festival is more artistic due to the park's cooperation with Malu Grape Art Village, combining an art exhibition with a display of new kind of grapes.
In addition, a market, displaying a variety of new agricultural byproducts, opens to tourists at weekend and let people experience online to offline (O2O) consumption model.