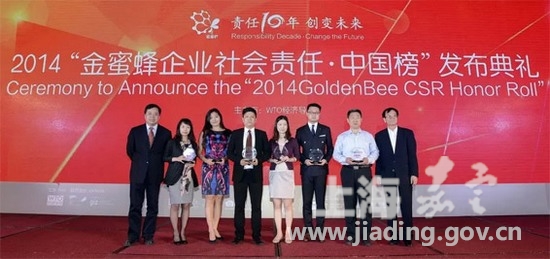 Volvo Group China wins at the 2014 Golden Bee CSR Honor Roll. [Photo/jiading.gov.cn]
Volvo Group China based in Jiading Industrial Zone in Shanghai recently won a corporation social responsibility (CSR) award for its contribution to the sustainable social development.
The 2014 Golden Bee CSR Honor Roll, awarded by China WTO Tribune, a monthly journal writing on China and World Trade Organization, is given to companies with outstanding CSR programs in sustainable social development.
"As a responsible company, Volvo Group has integrated sustainable development concept into its corporation development strategy and implemented programs to promote social and environmental progress," said Malin Ripa, the senior vice-president for CSR at Volvo Group, adding that the award will encourage the company to further contribute to sustainable development in China.
The Volvo Group China in Jiading Industrial Zone [Photo/jiading.gov.cn]
In recent years, the group has carried out a series of CSR programs including a training program for truck drivers to master skills for safe and eco-driving and a voluntary program to teach pupils traffic safety rules.
As the first automaker joining in the "Climate Savers", a program advocating low-carbon lifestyle initiated by the World Wild Fund for Nature (WWF), Volvo Group has also been conducting work to reduce greenhouse gas emissions. It currently carries out a feasibility research on building a zero-emission factory in China.
"The Volvo regards education, road safety and environment protection as an important part of our CSR cause," said Huang Zheng, the head of CSR and public affairs department at Volvo Group China. He also suggested the Volvo group to join hands with the government, research institutes, non-governmental organizations and other companies sharing the same value to contribute to the social progress.
Edited by Mevlut Katik