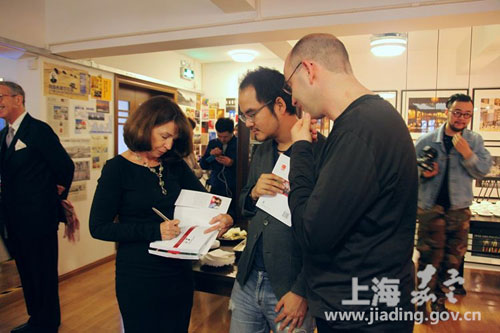 Kate Baker, writer of Centuries of History, Decades of Change, autographs the book for readers at the launching ceremony of the book on Jiading tourism on April 17. [Photo provided by jiading.gov.cn]
A book on tourism in Jiading district – Centuries of History, Decades of Change – was officially launched on April 17.
The Book, which was published by Shanghai Translation Publishing House, introduces the history, tradition, folk customs, automobile culture, rural scenery and other tourism resources in the district, helping foreign visitors to understand more about the town with a history of more than 700 years.
Kate Baker, writer of the book, is from the US and has lived for years in Southeast Asian countries. During her stay in Shanghai, she joined in writing a book Beyond the Concessions: Six Walks in Shanghai's Other Districts. As she got to know more about Jiading, she fell in love with the charming town and often toured the town with her friends. At the end of 2013, Baker was invited by the Jiading Tourism Bureau to write the book on Jiading tourism.
Lin Jun, director of publicity of the District Information Office, said that the book has provided abundant useful information about Jiading. As it was written from the perspective of a foreigner who knows well about Jiading, foreign tourists will be able to find information they are interested in from the book. And the launch of an English book on Jiading tourism will help enhance the town's role as a popular destination for foreign visitors.
The book is now available at branches of Xinhua Bookstores, airport bookstores and online book stores like amazon.cn. It sells at a price of 48 yuan ($7.7).