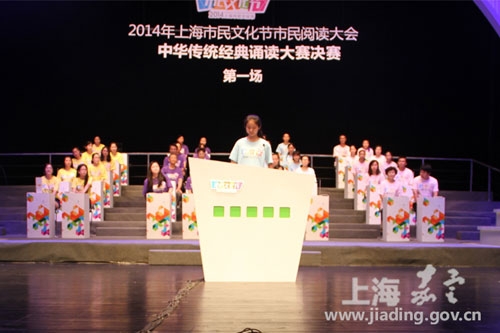 The 2014 Chinese classic works reading competition was held in Jiading on August 2 and 3. Two hundred competitors from Shanghai competed intensely for the title of "Reading Talent". After four qualification rounds, 20 competitors will enter the finals.
The competition had the aim of spreading knowledge and understanding of Chinese culture by reading classics; and the committee let people review some traditional Chinese cultural patterns such as gratitude, honesty and manners through a series of activities including quizes, lectures and reading performances.
The committee also invited famous experts such as He Yong to design questions for the competition so that people could read widely and recite famous sayings.
Meanwhile, universal lectures in community libraries about Chinese classical works were held and famous scholars were invited – such as Luo Yumin, to communicate with audiences face to face.
The committee held a classic works reading show in order to let people understand and enjoy Chinese classical works better by listening to some famous scholars reading them out loud.
The participants come from all levels of society, including old people, knowledgeable teachers and amateur students.
Furthermore, some social groups take part in various activities to let more people get to know Chinese classic works. On the basis of community, the cultural center is the basic point of the public culture festival of Shanghai, and the competition attracted and encouraged students and social groups to attend activities which play a positive role in promoting people to learn traditional culture as well as to create an atmosphere of reading the classics.
The competition was held by government, the public cultural department and some civil society groups which not only bring more creative ideas on board, but also offer a stage for traditional culture lovers.
Edited by Zhu Xiaorui and Brian Salter