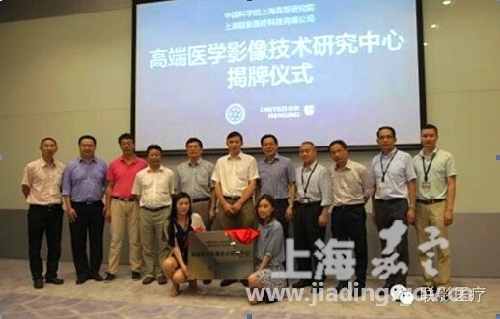 A medical imaging technological research center recently held an unveiling ceremony in the Jiading Industrial Zone of Shanghai.
The research center, co-founded by the Shanghai Advanced Research Institute (SARI) of the Chinese Academy of Sciences and Shanghai United-Imaging Medical Technology Co Ltd, was established in August 2011 at SARI's science and technology park in Shanghai's Pudong New District.
Using the technological advantage of SARI and industrial advantage of United-Imaging, the center developed technologies with its own intellectual property rights in magnetic resonance, X-ray computed tomography, molecular imaging and medical electric engineering. They have been focusing on talent exchange and technological innovation, contributing to the medical equipment industry.
In order to facilitate the technological achievement transformation, the center was relocated in March to the medical industrial park inside the Jiading Industrial Zone.
As Shanghai's important base for the medical industry, Jiading Industrial Zone has attracted some medical projects to settle there. The zone will focus on digital medical imaging, minimally invasive surgery and implantable medical devices, which is expected to reach business income of 12 billion yuan ($1.9 billion) by the end of 2017.