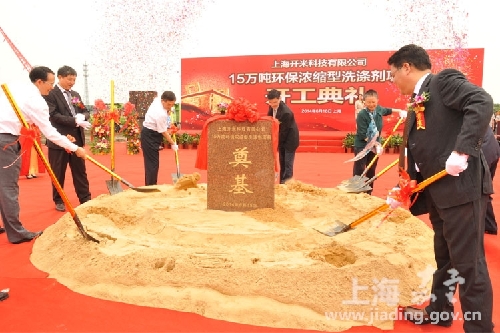 Shanghai Kaimi Technology Co Ltd initiated a construction project in Jiading district on June 18. Ma Chunlei, secretary of Jiading district Party committee, attended the groundbreaking ceremony.
As a Chinese national brand, Kaimi focuses on independent innovation and environment protection, and will play an important role in making Jiading a livable and competitive modern city, Ma said.
With a total investment of 800 million yuan ($128 million), the finished project is expected to produce 150,000 tons of environment-friendly concentrated liquid detergent and reach a sales volume of 2.5 billion yuan every year.
According to Ma, Jiading has reached sustainable economic growth by promoting industrial transformation. He hoped Kaimi and other influential companies in Jiading can further contribute to the transformation.
Kaimi, a Xi'an-based liquid detergent producer, is a leading company in China's detergent industry. It is experienced in making and amending international and national industrial standards and has developed a slew of green detergent products.