Transportation
Updated : 2022-02-14
(chinadaily.com.cn)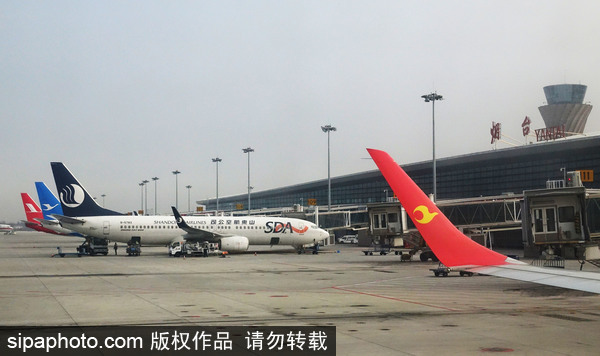 Yantai Penglai International Airport, Shandong province [Photo/SIPA]
A modern transportation system combining land, water and air transit is taking shape in Yantai.
Yantai aims to establish a three-hour high-speed train circle and a two-hour flight circle in hopes of stimulating economic activity.
Official data show that in 2021, Yantai's fixed asset investment in the transport sector was 19.68 billion yuan ($3 billion), accounting for 129.4 percent of the city's annual investment plan. A total of 72 projects were included in Shandong's transportation network development plan for the 14th Five-Year Plan period (2021-25), which accounted for 14.9 percent of the province's total amount.
An urban expressway project with a total investment of 24.3 billion yuan was officially launched this year, and a "one horizontal and two vertical transportation network" is expected to be built in Yantai after the expressway is put into operation.
Construction of the Weifang-Yantai and Laixi-Haiyang-Rongcheng high-speed railways is now underway. A complete high-speed railway network is expected to take shape after the two railways are put into use, which will also promote the integration of the Jiaodong Economic Circle.
Yantai has also made achievements in the development of its highways. A number of highways at the national, provincial and municipal levels are under construction, and the expansion work on the Yantai section of the Rongcheng-Wuhai Highway is on the fast track.
As a costal city, Yantai has made great efforts to promote the development of its port construction, and the city now has 10 port areas and 242 berths.
According to official statistics, the total length of highways in the city reached 19,800 kilometers, and the length of expressways open to traffic was 670 km, while the total length of rural highways was 17,300 km at the end of 2021. The city's railway operating mileage totaled about 600 km at the end of last year, and that of high-speed railways was 178 km.
Currently, Yanhai has two airports, which are Yantai Penglai International Airport for civil use and the Penglai Shahekou Airport for general use.
Yantai Penglai International Airport opened its first direct flight to Tokyo on Jan 2, 2020. It is the city's fifth flight to Japan after previously established routes to Osaka, Nagoya, Shizuoka, and Fukuoka.
In recent years, the Penglai International Airport has been increasing the number of international flights to promote overseas exchanges. The passenger throughput of the airport exceeded 10 million for the first time in 2019, joining the ranks of larger airports.
The city expects more than 23 million airport passengers in 2030 and has started construction of the international airport's second phase last year.
The first subway line will open in Yantai this year, which is expected to help ease urban traffic congestion.