Yantai's foreign trade in 2021 sets record high
Updated : 2022-01-20
(chinadaily.com.cn)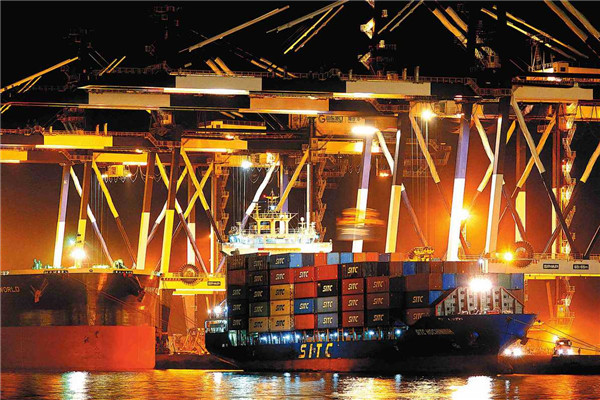 A container ship is being unloaded at an international container terminal at Yantai Port in Shandong province in November 2021. [Photo by Tang Ke/chinadaily.com.cn]
The coastal city of Yantai in East China's Shandong province recorded 411.5 billion yuan ($64.86 billion) in imports and exports in 2021, an increase of 27.8 percent year on year, and set a new record, local customs authorities said on Jan 18.
Statistics showed that Yantai's exports totaled 244.86 billion yuan, up 24.7 percent year on year, and imports increased by 32.6 percent year on year to 166.65 billion yuan.
In addition, Yantai's bonded logistics surged last year with an increase of nearly 40 percent year on year. The city's general trade imports and exports increased substantially and processing trade also showed gains. The former reported a total value of 185.07 billion yuan, growing by 18.2 percent year on year and accounted for 45 percent of the city's total while the latter rose 19.3 percent year on year to 133.11 billion yuan, accounting for 32.3 percent of Yantai's total foreign trade.
The private sector, which already makes up the bulk of Yantai's foreign trade, continued to play a bigger role by bringing in 208.76 billion yuan in foreign trade in 2021, increasing 34.4 percent year on year and accounting for 50.7 percent of the city's total imports and exports. Foreign-funded firms posted a total foreign trade volume of 172.62 billion yuan, up 19.7 percent year on year, and that of State-owned enterprises grew by 36 percent to 29.55 billion yuan.
The US, South Korea and Japan were Yantai's largest trade partners last year with the US being the largest export market, and South Korea the largest source of imports.
The city saw robust growth in its foreign trade with RCEP member countries last year as its trade volume rose by 18.7 percent year on year to 146.72 billion yuan. Yantai also reported an 18.6 percent growth in trade with countries involved in the Belt and Road Initiative that reached a total value of 89.91 billion yuan.