Yantai's Jan-Nov foreign trade value reaches 382.8b, sets new record
Updated : 2022-01-14
(chinadaily.com.cn)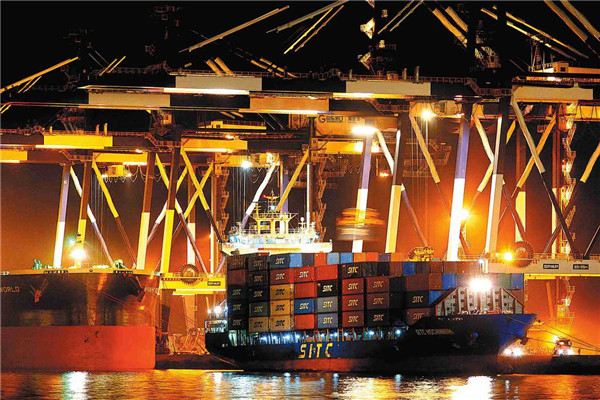 A container ship is being unloaded at an international container terminal at Yantai Port in Shandong province in November 2021. [Photo by Tang Ke/chinadaily.com.cn]
The coastal city of Yantai in East China's Shandong province recorded a total foreign trade value of 382.8 billion yuan ($60.35 billion) in January to November period in 2021, increasing by 34 percent year-on-year, hitting a new record, according to statistics released by the city's customs authorities.
With the implementation of the Regional Comprehensive Economic Partnership (RCEP) agreement earlier this month, Yantai Customs has released 17 well-calibrated regulatory measures to help local foreign trade enterprises seize the new development opportunities brought by RCEP. The city's customs authorities issued the first RCEP certificates of origin to companies on Jan 1, which has brought tariff reductions to enterprises, and in turn boosted the development of Yantai's foreign trade.
Pilot measures have been rolled out to reduce the operating costs of enterprises. A total of 18 innovative tax-related suggestions were adopted by the government, which helped reduce taxes and fees for businesses and has stimulated growth and unleashed market potential.
Efforts have also been made to improve the efficiency of customs clearance by simplifying the declaration process, and the relevant documents are now electronic, which speeds up the timeline for customs clearance of goods, significantly shortens the time of transporting containers at the port, and cut costs. Official data have shown that in 2021, the overall customs clearance time for imports and exports in Yantai were improved by 57.7 percent and 85.2 percent from that in 2017, respectively.
A slew of tailor-made measures were released to meet the diversified needs of enterprises. A policy and financial package was rolled out to boost the exports of commercial vehicles, which has increased the shipment of commercial vehicles to a total of about 151,000 units, a year-on-year growth of 167 percent.