Lantern show dazzles visitors in Yantai
Updated : 2022-01-05
(chinadaily.com.cn)
A lantern show was staged at the Penglai Pavilion Scenic Area, a popular attraction in Yantai, East China's Shandong province on Dec 31, to celebrate the New Year. The show is expected to last until April, with the aim of expanding the influence of traditional Chinese culture.
In addition to the charming lantern show, the scenic area has launched a wide range of activities such as Dashuhua (literally "creating tree flowers"), which has a history spanning thousands of years and is a national intangible culture heritage item.
Ten sets of themed lanterns inspired by the legendary tale Eight Immortals Crossing the Sea, Qi Jiguang culture and Jiaodong folk culture have also been created. Traditional culture and Penglai local stories and legends were highlighted at the lantern show, bringing a festive atmosphere to the city.
Blessed with rich cultural and tourism resources, the Penglai Pavilion Scenic Area has explored innovative ways to promote the high-quality development of the tourism industry, improve traditional Chinese culture, build a tourist hotspot in Yantai and boost regional economic development.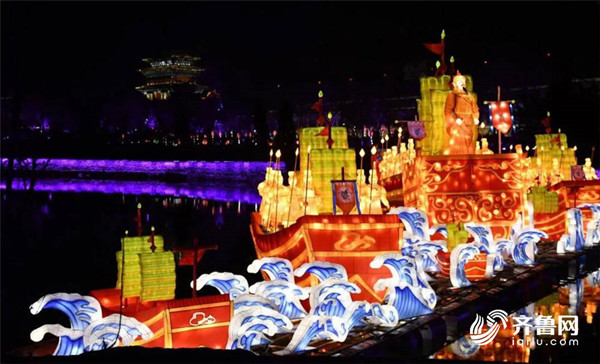 A lantern show is staged at the Penglai Pavilion Scenic Area, a popular attraction in Yantai, East China's Shandong province on Dec 31. [Photo/iqilu.com]