Foreign media impressed by China-Korea Industrial Park
Updated : 2019-12-02
(chinadaily.com.cn)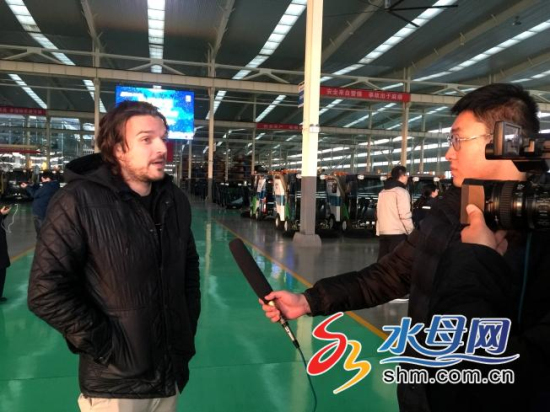 French journalist Andrew Josephbraun expresses his love for Yantai, a coastal city in East China's Shandong province. [Photo/shm.com.cn]
A group of more than 20 foreign media agencies from Russia, the United States and South Korea visited 11 companies at the China-Korea (Yantai) Industrial Park from Nov 27 to 29. The park's many innovations and achievements proved to be a source of amusement for the foreign guests.
Yantai has vowed to boost cross-border e-commerce at all costs, even developing the China-Korea (Yantai) Cross-border E-commerce Service Platform with the help of Tencent Cloud.
Needless to say, the platform proved a major boon to both Yantai and Tencent, largely due to its inclusion of Fortune Global 500 companies such as eBay, Amazon, and Gmarket, as well as its top-notch transaction, payment and logistics services.
The park also impressed foreign journalists with its robust biological medicine and aerospace high-tech industries.
"I learned about Yantai through its famous wine industry, I didn't realize it is such a strong foothold in biological medicine and big data as well," a correspondent of The Economist said after visiting Rongchang Pharmaceutical Co and Shandong Biotechnology Park. She also spoke highly of the preferential policies the Yantai government has implemented to provide investors with more convenient services.