Yantai seeks cooperation opportunities at 2nd CIIE
Updated : 2019-11-06
(chinadaily.com.cn)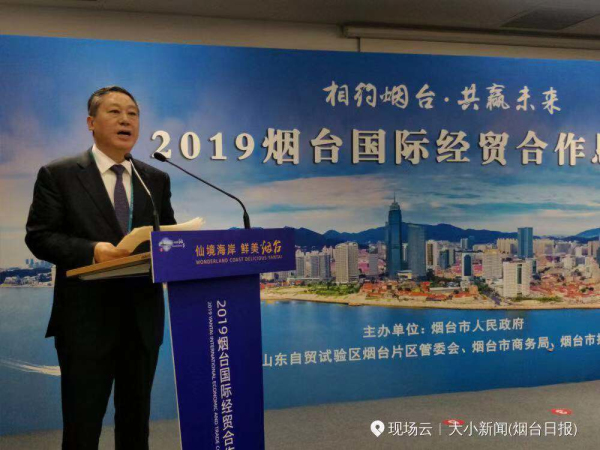 Zhang Shuping, Party secretary of Yantai, delivers a keynote speech at the 2019 Yantai International Economic and Trade Seminar in Shanghai on Nov 6. [Photo/ytcutv.com]
Yantai, East China's Shandong province signed nine projects in the fields of trade procurement, biomedicine, featured parks, cross-border e-commerce and high-end equipment manufacturing at the ongoing China International Import Exposition in Shanghai.
On Nov 6, the coastal city hosted an international economic trade cooperation seminar at the National Exhibition and Convention Center (Shanghai), one of the main venues for the second CIIE, to deepen exchange and cooperation with foreign companies from across the world.
The seminar gathered representatives of logistics, finance and e-commerce companies from the United States, Italy, South Korea, Japan, Brazil, Australia, and other countries, as well as experts in related fields.
Zhang Shuping, Party secretary of Yantai, attended the event and introduced the city's business environment to foreign guests as well as his desire to attract more foreign companies to invest in Yantai.
Zhang said that Yantai was among the first 14 cities to open up to the world in 1984, and remains an important hub for the Belt and Road Initiative.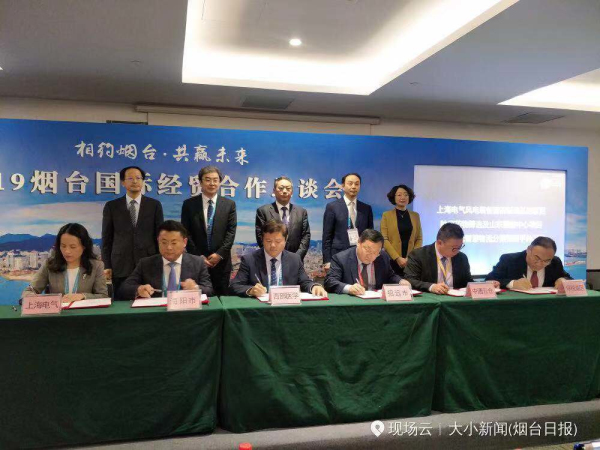 A total of nine key projects are inked at the 2019 Yantai International Economic and Trade Seminar in Shanghai on Nov 6. [Photo/ytcutv.com]
The coastal city enjoys a strong ecological environment, robust industries and rich marine resources, and has attracted investment from many Fortune 500 companies over the years.
The new Yantai Area of the Shandong Pilot Free Trade Zone, launched in August, is helping the city become more open to investment, finance, education and medicine, and the city is allowing more foreign-owned or foreign-funded enterprises to operate and invest in more fields, Zhang said at the seminar.
Christian Weibel, general manager of ELETEK Electromechanical Products (Yantai) Co and sales director of Asia-Pacific Region, spoke highly of Yantai's business environment in his speech at the event.
He said that with the support of the Yantai government, ELETEK Yantai launched its new plant in Laishan district with a total area of more than 26,000 square meters.
"It was the right time and right place to build our Asia-Pacific Headquarters. We're hoping for more than 400 million sales ($57.9 million) in the coming years," Christian said.
The second CIIE is underway in Shanghai from Nov 5 to 10 and attracted more than 3,000 companies from nearly 150 countries and regions seeking trade cooperation opportunities.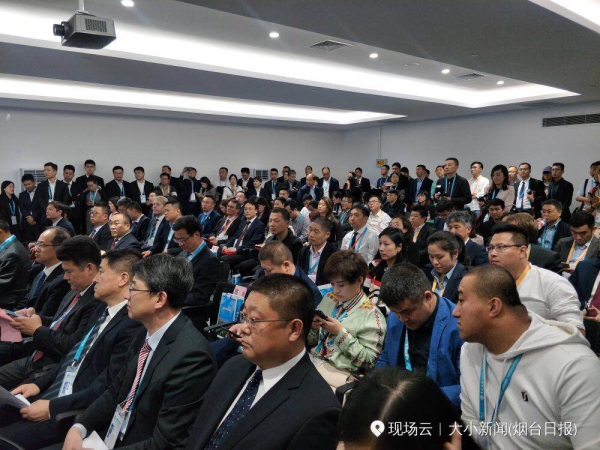 Businessmen from the United States, Italy, South Korea, Japan, Brazil, Australia and other countries gather at the promotional conference hosted by the Yantai government. [Photo/ytcutv.com]