Yantai looks to strengthen agricultural branding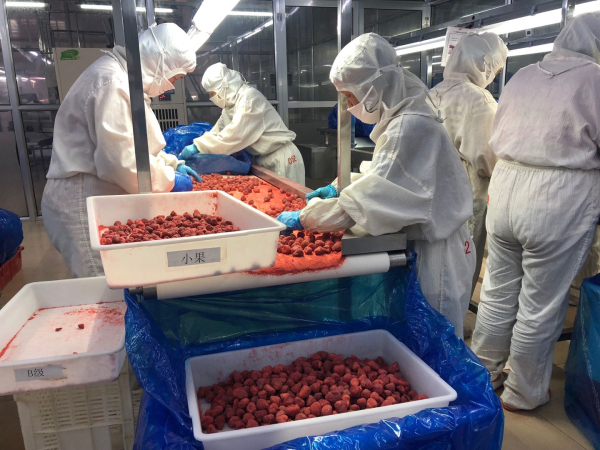 A sterile production workshop operated by Yantai-based Tri-river Food Co. [Photo by Liu Chuan/chinadaily.com.cn]
Yantai, a coastal city in East China's Shandong province, sees the importance of branding in boosting local agriculture industry.
Branding is becoming the key to success for agricultural companies and also a major impetus to help boost modern agriculture, experts said.
In recent years, Yantai has been stressing the importance of regional branding innovation, quality promotion and marketing platforms to stimulate local agricultural development.
Situated in the eastern part of the Jiaodong Peninsula, Yantai is renowned as an international center of fruit cultivation and processing due to its favorable climate.
At present, several traditional agricultural products enjoy strong brand recognition, such as Yantai's apples, cherries, grapes and sea cucumbers.
A total of 51 agricultural categories were certified as national geographical indications, such as Fushan cherries and Laiyang pears, among which nine featured products were recognized as China Protected Geographical Indication Products, such as Longkou fensi (vermicelli made from bean starch), Yantai wine, and sea cucumbers.
Yantai apples, with a brand value of 13.7 billion yuan ($1.98 billion), have been the top fruit brand in China for 10 consecutive years.
Changyu, China's biggest wine producer, Luhua Group, the country's largest edible oil production company, and Quanyuan and Longda Foodstuff Group Co, China's leading food processing enterprise, have developed into some of Yantai's most famous agricultural companies.
Apart from traditional companies, several small-sized companies are also striving to promote their brand images with the aid of modern information technologies.
Yantai-based Tri-river Food Co has developed a world-leading frozen-dry food processing technology, which allows fruit to be dehydrated at ultra-low temperatures, effectively preventing the loss of nutrients at which traditional methods fail. Its frozen-dry fruit chip products have been exported to Japan, Australia, the United States, and other countries.
E-commerce is proving to be a major boon to the fruit industry in Yantai. It has led to the establishment of a quality supervision and traceability platform for agricultural products with more than 500 tracing points.
Yantai Quanyuan Food, a renowned apple planting and processing company in Shandong province, built its own transparent traceability system which can trace products all the way from the initial planting stages to when it ultimately hits the store shelf.
In the future, Yantai will work to establish an e-commerce supply chain for featured agricultural products to help expand markets.