Hundreds of S. Korean companies to visit Yantai for cooperation
More than 200 representatives from South Korean companies, government agencies and trade associations will visit Yantai to seek cooperation opportunities on May 30 to 31.
A series of cooperative activities will be launched, including cooperative conferences in the fields of modern services, intelligent manufacturing and medicinal health, a promotional conference, and a visit to Yantai companies.
The campaign aims to strengthen ties with South Korea and lure more South Korean companies to invest in Yantai.
South Korea is Yantai's largest foreign investor and trading partner. As of 2018, a total of 3,835 Korean companies, including LG, SK, Hyundai Motor, Doosan and Hyundai Heavy, have invested a total of $6.16 billion in Yantai.
In 2018, Yantai lured a total of 66 Korean projects, 15.8 percent more than last year. The actual use of Korean capital reached $206 million.
To deepen cooperation between the two sides, Yantai actively promoted the new traffic infrastructure. There are now 120 flights a week from Yantai to Incheon and Busan, and the China-Korea railway ferry project is also under construction.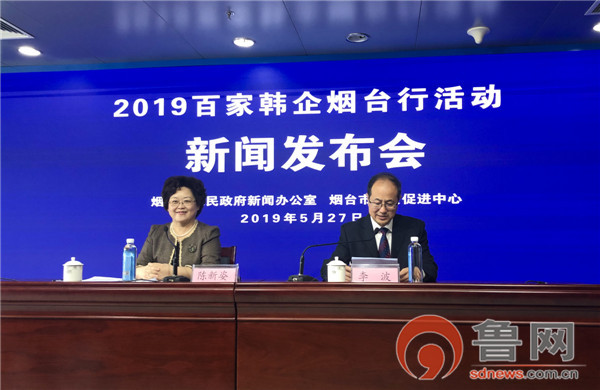 A press conference for the 2019 South Korean company visit to Yantai is held on May 27. [Photo/sdnews.com.cn]