Splendid Shandong cuisine art displayed in Yantai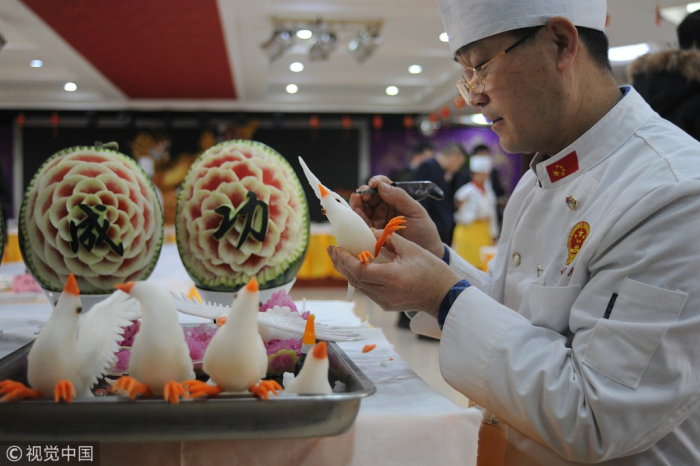 A chef concentrates on engraving a white bird at an exchange activity featuring Shandong cuisine arts held in Fushan district of Yantai, East China's Shandong province on March 3. [Photo/VCG]
The 2019 Shandong Cuisine Masters Exchange Summit was held in Fushan district of Yantai, East China's Shandong province on March 3.
More than 300 Shandong cuisine masters and renowned chiefs from Beijing, Shanghai, Anhui province, Fujian province and Shandong province gathered at Liyuan Hotel to showcase their talents in making dishes and pastries and exchange their cooking expertise with each other.
Shandong cuisine, also known as Lu cuisine, is one of the Eight Culinary Traditions of Chinese cuisine and one of the Four Great Traditions.
The event also held a famous cuisine exhibition and an excellent food materials exhibition where a full set of Ejiao banquet, along with a donkey banquet and a melon carving themed exhibition were displayed.