Industrial park expects to boost Sino-Korean cooperation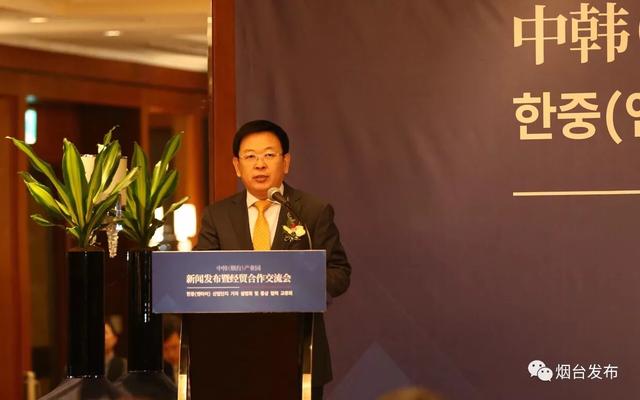 Zhang Dailing, the deputy mayor of Yantai, delivers a keynote speech at the press conference of Sino-Korea (Yantai) Industrial Park held in Seoul, Korea on Feb 26. [Photo provided to chinadaily.com.cn]
A press conference regarding the Sino-Korea (Yantai) Industrial Park was held on Feb 26 in Seoul, South Korea to promote economic and trade cooperation between Yantai and South Korea.
The conference was jointly sponsored by the Yantai municipal government and the Shandong Provincial Department of Commerce.
Zhang Dailing, the deputy mayor of Yantai, delivered a keynote speech and said that Yantai is paying a lot of attention to the development of Sino-Korea (Yantai) Industrial Park.
He hoped that the two sides can deepen cooperation and seek high-quality development. China is the largest trading partner of South Korea. As the first region to open air routes between China and South Korea, Yantai has cooperated with South Korea numerous times.
The conference also released the construction plan of the Sino-Korea (Yantai) Industrial Park. Covering 80.4 square meters, it has three areas -- the development zone, high-tech zone and Mouping district. At the conference, officials of the three areas also delivered their plans on key industries to be developed in the park.
The Yantai government has rolled out a series of favorable policies to lure more high-quality companies and platforms to the park. To date, more than 3,700 Korean companies have registered in Yantai, with an actual investment of more than $6 billion.
In 2018, Yantai imports and exports to South Korea totaled $7.52 billion. Contracted foreign capital reached $12.25 billion and the actual foreign capital was $6.16 billion.
At the promotional conference, a total of 13 Yantai companies conducted trade exchange with Korean enterprises and reached cooperation intentions in the fields of e-commerce, biotechnology, intelligent manufacturing, tourism, funding and automobile parts.