Yantai's efforts towards tourism promotion debuts Russia
Updated : 2018-09-28
(chinadaily.com.cn)
Yantai, a coastal city in East China's Shandong province, unveiled its first tourism promotion center in Khabarovsk, Russia on Sept 27, a project aiming to promote its tourism resources to East Asian markets.
The Khabarovsk center will serve as a hub displaying some of the finest tourism products of Yantai to provide information to travel agencies and potential Russian visitors.
The space is also an important attempt to penetrate the overseas market. The project will be developed into a platform for both sides to deepen tourism interchange.
Russia is one of the important inbound tourist markets in Yantai. Since Yantai launched tourist charter flights to Khabarovsk in 2013, the tourism exchange become closer between Yantai and the Far East of Russia.
Khabarovsk, one of the biggest cities in that area, is adjacent to Northeast China, where the winter is cold and long, so its residents are eager for sand and sunshine.
Yantai enjoys over 1,000 kilometers of golden coastline and natural bathing beaches. Many of itse special tourism products like beach sightseeing, spa service, traditional Chinese medicine physiotherapy, and wine are attractive to visitors from Khabarovsk.
In recent years, Yantai has been making efforts to explore the Russian tourism market. It has been visiting cities in Russia to promote local tourism resources and has also invited travel agencies and media in Russia to visit Yantai to boost its inbound tourism market.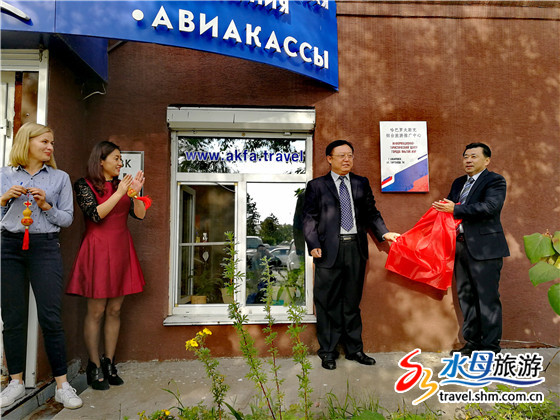 Yantai, a coastal city in East China's Shandong province unveils its first tourism promotional center in Khabarovsk, Russia on Sept 27. [Photo/travel.shm.com.cn]