Yantai Bonded Port Zone: Engine of city's opening-up
Updated : 2018-08-15
(chinadaily.com.cn)
A group of journalists from more than 30 media institutions at home and abroad recently visited Yantai Bonded Port Zone of Yantai, East China's Shandong province to explore its big role in promoting the city's economy.
Launched in 2009, the Yantai Bonded Port Zone was the second bonded port area in Shandong and the 13th in China. The area is also the first of its kind in China that has integrated former import-export processing zones and several small ports.
The zone covers an area of 7.26 square kilometers, with the aim of boosting the city's marine economy through trade, and the shipping and hi-tech industries.
To date, the zone boasts 54 companies in the eastern area that handles logistics and cross-border electronic commerce and 51 companies in the western area, which are based in Foxconn industrial park and responsible for processing and manufacturing sectors.
In 2017, the bonded port zone saw an import and export value of 81.93 billion yuan ($12.6 billion). Additionally, Yantai Port Group handled a total cargo throughput of 288 million tons where the bauxite, fertilizer, petroleum coke and wood sectors took the leading position among the ports in China.
As well as positive import and export figures, it has lured investment from companies in South Korea, Japan, the United States, Singapore and Taiwan in the three leading sectors - electronic products manufacturing, automobile parts processing and bonded services.
Moreover, it has established some e-commerce sites and signed strategy cooperation agreements with Alibaba and its sub-brand Juhuasuan, a group-buying site.
The bonded port area also attaches much attention to innovation. It aims to establish an online service platform with globally renowned free trade ports such as Singapore and Rotterdam to share information and resources.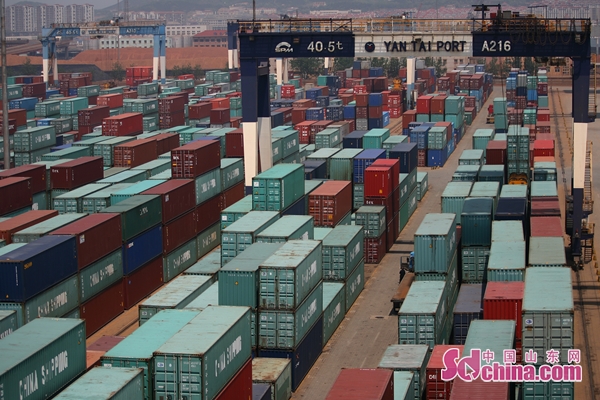 Yantai Bonded Port Zone in Yantai port. [Photo/sdchina.com]