Delicate 'Jiaodong bobo' on display in Yantai
Updated : 2018-01-30
(chinadaily.com.cn)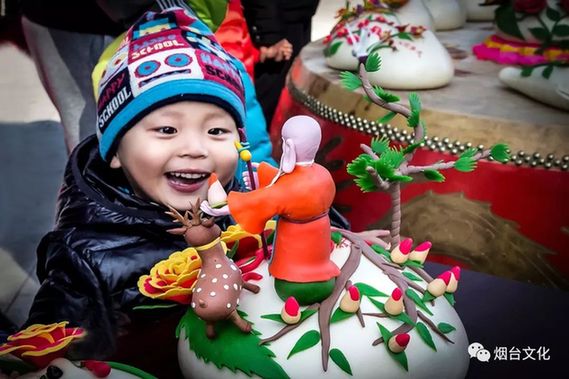 A child is fascinated by a delicate Jiaodong flower bobo, a steamed bun popular on the Jiaodong peninsula in Shandong province. [Photo/WeChat account: ytswgxj]
An exhibition featuring "Jiaodong flower
bobo
", or steamed buns popular on the Jiaodong peninsula in Shandong province, is being held at Yantai's Culture Center from Jan 26 to Feb 12 to greet the upcoming Spring Festival.
Bobo are wheat buns that are four or even six times larger than mantou, a staple in North China. Skilled housewives can make bobo into the shapes of different animals and figures with various poses, and decorate them with red jujubes and colorful flowers. Local people call them "big bobo" and "flower bobo". This kind of plump bobo looks like an exquisite handicraft, showing the food culture and aesthetic pursuit of the local people.
It is hard to know when Jiaodong bobo first appeared. In ancient times it was used for worship. It is still very popular in the rural areas of Weihai, Yantai and Qingdao. People usually steam bobo to celebrate special occasions such as Spring Festival, weddings and birthdays, as the word for "steam" is pronounced "zheng" in Chinese, indicating life's fortune will rise.
Through years of development, bobo has changed into dough figurines in different shapes of dragons, tigers, flowers, birds, insects and fish, so it is both edible and ornamental.
The exhibition is designed to showcase the city's protection of the craftsmanship of Jiaodong flower bobo, which was included in the Shandong provincial government's intangible cultural heritage list in 2009.
The exhibition gathers more than 100 works by about 20 inheritors of the Jiaodong flower bobo modeling craft from Qixia city, Laizhou city, Zhaoyuan city and Longkou city, as well as the Muping district in Yantai.
In the first three days of the event, craftsmen were invited to introduce the art of making Jiaodong flower bobo. Jia Yuping, one of the inheritors of the art, said she was optimistic about its future.
She has been teaching lessons concerning Jiaodong flower bobo in kindergartens and primary and middle schools in Qixia. Though it was days before Spring Festival, she had received orders of more than 4,000 boxes of Jiaodong flower bobo. She also pledged to preserve and promote the heritage.
Besides Jiaodong flower bobo, the exhibition features clay figurines, dough modeling and Lunar New Year's paintings.
"We wish to introduce to our citizens the folk customs of celebrating Chinese Lunar New Year in the Jiaodong Peninsula through the exhibition," said an official of the intangible cultural heritage protection center in Yantai, organizer of the exhibition.