Yantai holds China-Germany elderly care forum
Updated : 2017-12-01
(chinadaily.com.cn)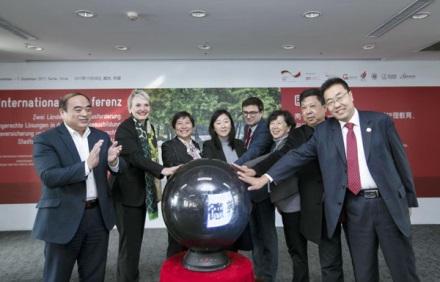 Attendees inaugurate the China-Germany Elderly Care Forum in Yantai, Shandong province on Nov 30. [Photo/ sd.chinadaily.com.cn]
The China-Germany Elderly Care Forum was held in the Yantai Hi-tech Industrial Development Zone on Nov 30.
The two-day forum focused on issues such as the establishment of long-term elderly care insurance system, and construction of elderly friendly communities.
Guo Qiang, head of the office of the Yantai municipal working committee on aging, attended the forum and delivered a speech. Guo noted that China and Germany are both faced with the challenge of establishing an affordable funding system for elderly care, and training a sufficient number of nursing staff.
Guo said the forum provided a new platform for the two countries to conduct exchanges and learn from each other's useful experiences. Guo also pledged that Yantai will play an active role in coping with the challenges caused by demographic changes
Attendees of the forum also visited the Renafan nursing home, a joint program between China and Germany in Yantai, and the Yantai Hi-tech Industrial Development Zone, where they were briefed on the experience in the innovation of elderly care service and biomedicine.