Kunyu Mountain National Nature Reserve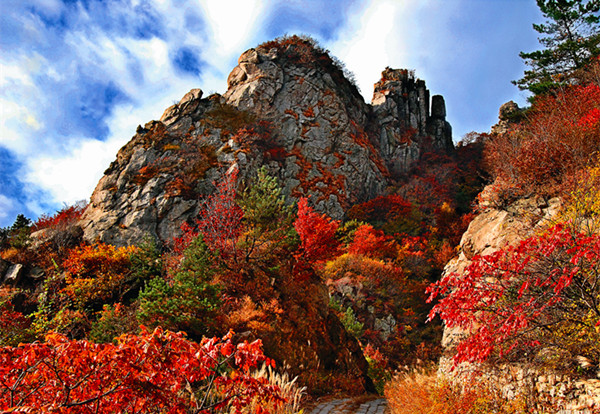 Kunyu Mountain in late autumn [Photo by Ju Chuanjiang/chinadaily.com.cn]
Kunyu Mountain National Nature Reserve sits in the east of Yantai, Shandong province. The mountain was recognized as a national nature reserve in 2008.
The reserve is well known for its green biological environment and beautiful scenery in the Shandong Peninsula. It is the only natural habitat of red pine in the country. It is also the source of the Muzhu, Huanglei, Han and Qinshui rivers, contributing to several large and medium-sized reservoirs including Mishan, Longquan and Washan reservoirs.
Kunyu Mountain enjoys biological diversity, with 2,234 species of wild animals and plants. It has the first ecosystem research station for detrimental bio-organism control and prevention. According to research statistics, the forest ecosystem of Kunyu Mountain boasts 1 billion yuan ($166 million) in direct ecological output value in terms of water and soil conservation, oxygen generation, carbon dioxide absorption, sulfur dioxide decomposition, dust filtration and scientific research. It is valuable for the research of natural evolution and biological and genetic diversity.
On July 3, 2010, Yantai set up working and administrative committees for the nature reserve and expanded the reserve area by 20 square kilometers, approved by the State Council. Kunyu Mountain Nature Reserve has a population of 12,000 with an area of 174 square kilometers, including Kunyu Mountain forest farm and Kunyu town.
With the aim of creating a biological brand and realizing biological development, Kunyun Mountain Nature Reserve will take strict conservation measures to prevent itself from destruction.
The committees will tap the resources of recreational tourism and special agriculture to coordinate the development of people's livelihood and ecological protection. They plan to build a string of towns and villages for recreational tourism, making it a famous tourism destination in China and abroad.
E-mail: kysbhq@163.com