Weight-loss organizations proliferate in China as childhood obesity rate surges
Updated : 2016-12-21
(People's Daily Online)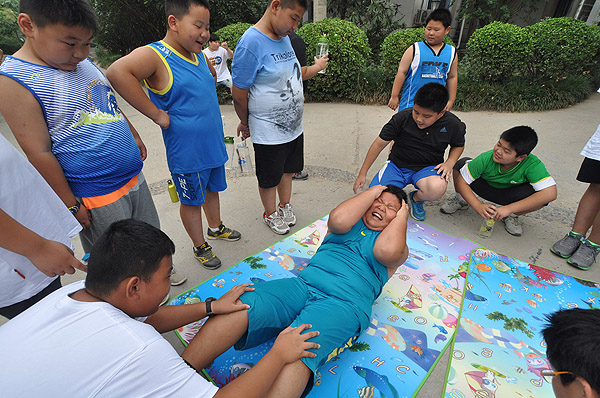 A boy struggles while doing a sit-up at a summer camp to tackle child obesity in Zhengzhou, Henan province, on July 14, 2013. [Photo by Zhang Tao/Asianewsphoto]
As more and more children under the age of 5 are declared overweight and obese children under the age of 5, institutions are popping up all over China with the goal of helping people to lose weight.
The number of overweight and obese children under 5 around the world has reached 42 million, and most are living in developing countries, according to a report released by the World Health Organization in October. According to the report, the growth rate of this group in developing countries is 30 percent higher than in developed countries.
Food that is heavy in fat and sugar, such as fast food and carbonated beverages, is frequently consumed by people in developing countries. At the same time, a growing prevalence of video games and cars has limited the time most people spend doing sports or other physical activity.
According to data released by the Center for Disease Control and Prevention in Shandong province, 0.7 percent of boys and 1.5 percent of girls in China were overweight or obese in 1985, while those numbers stood respectively at 16.4 percent and 14 percent in 2014.
In response to this problem, more and more institutions are opening to help people lose weight. A manager at one such organization guarantees that customers can lose 5 to 15 kilograms in 3 months with their help.