Ceremony in Shandong marks 2,567th anniversary of birth of Confucius
Updated : 2016-09-28
(People's Daily Online)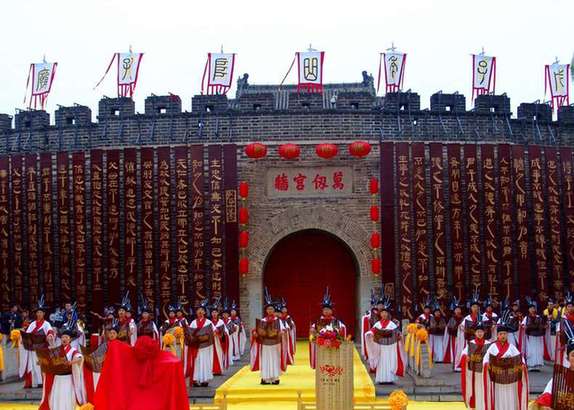 [File photo]
A grand Confucius Cultural Festival has kicked off in Qufu, Shangdong province in memory of China's greatest sage. An awards ceremony and memorial event honoring Confucius are the centerpieces of this year's gathering, which is set in the ancient philosopher's hometown.
Born in 551 BC, Confucius was one of the most important philosophers in China's history. His ideas were viewed as an orthodox ideology in China for more than 2,000 years, and have also been widely embraced by the international community.
Jointly organized by the Ministry of Culture, Ministry of Education and Shandong provincial government, this year's Qufu International Confucius Culture Festival commenced on Sept 27 with a magnificent opening ceremony, which was also the 11th awards ceremony of the UNESCO Confucius Prize for Literacy.
As the first international award that is named for and honors a Chinese figure, this year's UNESCO Confucius prizes were given to individuals and organizations from South Africa, India and Senegal to reward their contribution to eliminating illiteracy, especially among uneducated youth and rural adults.
Another core activity of this year's event is the ceremony of Confucius worship, which will be broadcast on Sept 28 to mark the 2,567th anniversary of the birth of the sage. The ceremony includes activities such as music and dancing performances, which represent Confucian ideology and traditional Chinese philosophy.
"We want to restore the ceremony's former glory and reconstruct history. Scientific research was carried out to create a standard for the ceremony. This year's ceremony will serve as a standard in the future, and will be introduced to other Confucius institutions nationwide," said Zhu Fumei, deputy mayor of the city of Qufu, during a press conference on Sept 23.
Memorial ceremonies for Confucius began in the second year after the philospher's death in 479 BC, and were restored in the mid-1980s after a long war-time and recovery hiatus, the Global Times reported.