Events mark Shandong Cultural Year in Singapore
Updated : 2016-09-23
(chinadaily.com.cn)
An exhibition of Confucian culture and an art event were held recently at Singapore's China Cultural Centre, to mark the second phase of the Shandong Cultural Year in Singapore.
More than 300 distinguished guests from cultural and economic fields attended the exhibition and evening event.
Xia Geng, vice governor of Shandong province, said that the cultural exchange would allow Singaporeans to better understand Qilu culture.
Zhang Sile, minister of Singapore's Ministry of Manpower, said that it was a good opportunity for Singapore to cooperate with Shandong in holding its cultural year because the province is the birthplace of Confucius and Mencius, along with being the cradle of Chinese traditional civilization.
According to the Singaporean authorities, Shandong is the first Chinese province to hold its cultural year at the center since its establishment.
The guests were all impressed by the art event featuring Chinese folk instruments, singing and dancing, all performed by renowned artists and distinguished young performers from Shandong province.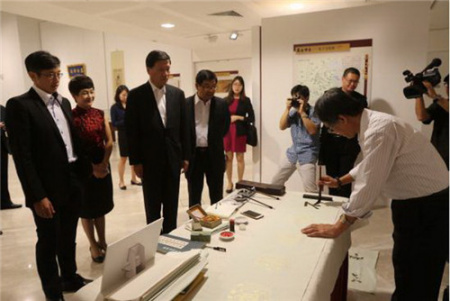 A painter from Shandong province demonstrates Chinese calligraphy for the 2016 China Shandong Cultural Year, at Singapore's China Cultural Centre. [Photo/chinaqw.com]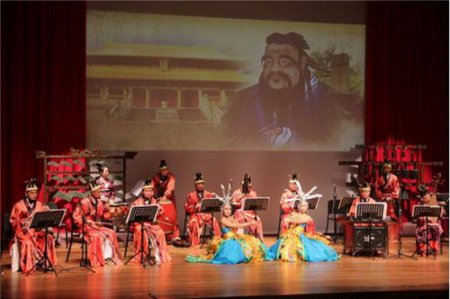 A group of musicians and dancers from Shandong province perform traditional Chinese music and dancing at the 2016 China Shandong Cultural Year held in Singapore. [Photo/chinaqw.com]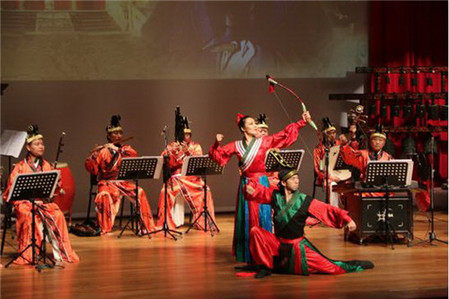 A music and dance show featuring Confucian traditions is performed at the 2016 China Shandong Cultural Year held in Singapore. [Photo/chinaqw.com]