Growth of imports pointing to economic stabilization
Updated : 2016-09-18
By Li Xiang (China Daily Europe)
Improved trade data indicates success of government measures, analysts say
China's imports in August rose for the first time in nearly two years while the decline in exports decelerated, signaling that government measures to stabilize growth may have taken effect, experts said on Sept 8.
Dollar-denominated imports beat expectations and increased by 1.5 percent year-on-year, reversing a 12.5 percent slump in July.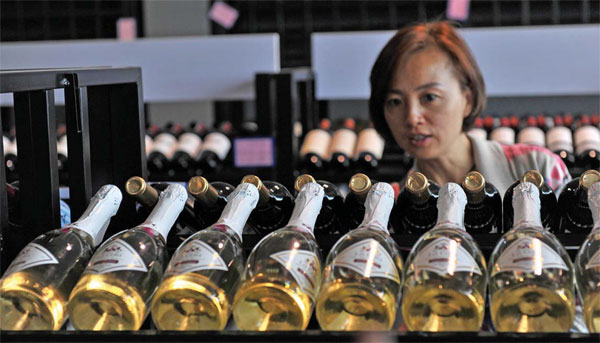 Imported wines on sale at a duty-free shop in Qingdao, Shandong province. Cui Pengsen / For China Daily
Exports in dollar terms fell 2.8 percent year-on-year, the slowest pace in four months, according to data from the General Administration of Customs.
Factors including a rebound in commodities prices, improved domestic and overseas demand, and a weaker yuan may have contributed to the better-than-expected trade data in August, experts say.
Guo Yanhong, chief strategist at Founder Securities Co, says the improved trade data points to the effective government measures to stabilize growth, including expansion of infrastructure projects and strong property sales, which helped lift domestic demand and boost import growth.
Official data show China's iron ore imports rose by 9.3 percent in August from a year earlier and that coal imports rose by 12.4 percent.
"The improvement in imports could last until September, but any adjustment in China's property market could once again weigh on imports," Guo says.
Zhao Yang, an economist at Nomura Securities Co Ltd, says the surprising surge in imports in August may be more transient than long-lasting.
Growth in imports of automobiles improved significantly, which was likely driven by post-flood purchases. Imports of semiconductor products also surged in August, which may have been supported by preparations for the launch of the iPhone 7 in September, he says.
An official index gauging future exports rose 0.9 points to 34.7, which could imply continued improvement in China's exports.
The Chinese customs administration says the improvement should continue in the fourth quarter, as a recent survey it conducted among exporters showed improved confidence, rising orders and declining costs.
The G20 pledged at the recent summit in Hangzhou to restore trade as a key engine for global growth and to strengthen trade and investment by lowering barriers, reducing costs and prioritizing trade facilitation measures.
But Xu Gao, chief economist at Everbright Securities Co, says China's exports may remain subdued due to the weak economic recovery in developed countries.
lixiang@chinadaily.com.cn