Cultural festival kicks off in Yantai
Updated : 2016-08-04
(chinadaily.com.cn)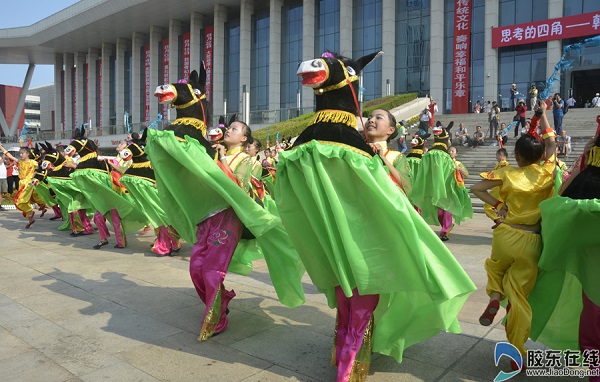 A traditional folk dance is performed at the 2015 Yantai Culture and Arts Fair. [Photo/jiaodong.net]
An extravaganza of art and culture is set to illuminate Yantai from Aug 5, as the city prepares for the 2016 Yantai Culture and Art Festival.
The three-month-long festival will kick off with a spectacular opening ceremony and be followed by a raft of themed events and more than 400 cultural activities, with over 1 million people expected to take part.
The festival is the largest of its kind in Yantai, Shandong province, and will feature every aspect of historic and modern culture, such as books, art, broadcasting and television.
For the first time, the city's cultural volunteer group will be honored with commemorative plaques for their selfless work they carry out in promoting local art, history and culture.
Xu Ming, director of Yantai Municipal Bureau of Culture, Broadcasting, Press and Publications, said that the festival will also serve as a celebration of the 95th anniversary of the birth of the Communist Party of China (CPC), and the 80th anniversary of the victory of the Long March in 1936.
Artists from across the province will perform during the festival incorporating both Chines and Western cultural elements. On Aug 24, the day Yantai was liberated from Japanese occupation in 1945, a series of Beijing operas will be performed, including The Liberation of Yantai, Liu Shenglan by a Beijing opera troupe from Zhaoyuan, and A Grateful Heart by a Beijing opera troupe from Laiyang.
Some 50 cultural exhibitions and shows will be held over the next three months, including an exhibition of Huizhou lacquer artwork hosted by the Yantai Art Museum. Other events include a joint exhibition of traditional Chinese paintings created by artists Yang Yuanwu, Shan Yinggui and Xu Jinti, and the Exhibition of Traditional Chinese Paintings by Li Ximing introduced by Yantai Cultural Center. Also, a delegation of paper-cut artists will pay a visit to four cities in South Korea to promote the classic Chinese art form.