Paper-cutting master gives free lessons to teenagers
Updated : 2016-08-01
(chinadaily.com.cn)
Master Chinese paper-cutter, Zhu Manhua, has been giving back to her community in Yantai, East China's Shandong province, this summer by providing free paper-cutting lessons to a group of teenagers during their school holidays.
Zhu, 71, was born to a family of paper-cutters, and over the years has made a name for herself crafting delicate, ornate and beautiful patterns out of paper. Over her 60 years spent cutting, she has created many masterpieces which have won acclaim from scores of people worldwide.
Carrying on the family tradition, Zhu's son and granddaughter, Hu Wen and Hu Yuexin, have been helping out with the lessons over the summer months.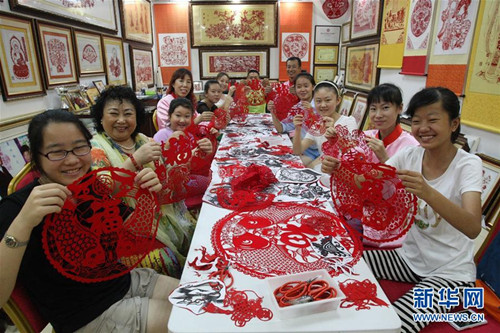 A group of teenagers proudly display their paper-cut creations, having been taught by master paper-cutter ZhuManhua over the summer holidays. [Photo/news.cn]