City turns cultural preservation into an art form
Updated : 2016-07-13
By Ian Callison (China Daily)
With little more than a miniature pair of razor-sharp scissors, steady hands and lots of patience, Yantai's paper cutters create beautiful and intricate works of art.
Zhu Manhua's family has been practicing the traditional craft of paper cutting for five generations, depicting images of animals, flowers, calligraphy and paper-cut versions of classic paintings.
I tried paper cutting at Zhu's shop in the Intangible Cultural Heritage Exhibition Hall in Yantai, and was surprised at how tricky it actually is. Zhu and her family make the craft look deceptively simple, but the actual process is focus-intensive, precise and time consuming.
Indeed, one particularly gorgeous paper cut, which spanned the length of a room and portrayed ancient village life, took the family almost one year to complete.
Zhu's continued devotion to paper cutting represents Yantai's commitment to culture. The city, though remarkably modern, has maintained some of its most cherished cultural assets, as artists continue practicing their traditional crafts to this day.
At the Intangible Cultural Heritage Exhibition Hall, more than 200 items are on display, and the exhibits include steamed bread, a brightly colored type of bread sculpture, traditional weaving and detailed stone sculptures. It's amazing to see so many art forms on display, and equally impressive to watch artists perform their crafts in the city's many shops.
Yantai is also home to the Cultural Creative Industry Park, a center for the production of a vast array of artworks. Located in Zhifu district, this park primarily focuses on animation and advertising, though students and professionals create a number of other art forms, both traditional and modern. The Chinese government sponsored the Cultural Creative Industry Park in an effort to reinforce Yantai as a cultural center.
The park contains a six-story building and attracts creative enterprises from across Shandong province to use its facilities, including computer labs, a magazine printing center, a photography studio and a ceramics room.
As a result, one artist might be finger painting calligraphy while in another someone might be designing a magazine. Artists have produced beautiful seashell-adorned jewelry, handmade clay teapots, and functional, modern takes on the traditional Chinese dress, the qipao, or cheongsam.
Of course, one of the most important and widespread elements of Yantai culture is wine. As the birthplace of wine culture in China, Yantai maintains a massive influence over the domestic wine industry.
Prior to this trip, I had no idea that China produced any wine at all. However, as we drove through the Shandong countryside and saw Changyu's lush vineyards and European-style chateaus, I was immediately reminded of Italian wine country.
I was pleasantly surprised by the prominence of wine in Shandong.
I sampled five Changyu wines while at the museum, and was delighted with each of them. There is a reason why this century-old company has become a cornerstone of the Chinese wine industry.
With its blending of the old and the new, Changyu's wine production is like so many other elements of Yantai culture. I was extremely impressed with Yantai and its devotion to maintaining long-lasting traditions while pursuing modernity.
Contact the writer at iancallison@chinadaily.com.cn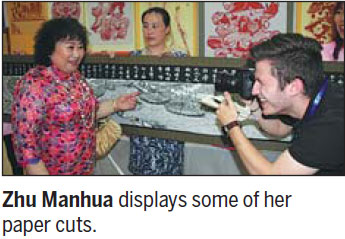 (China Daily 07/13/2016 page12)