Changyu sets out grape expectations for global growth strategy
Updated : 2016-07-13
(China Daily)
Winemaker Changyu has vowed to continue its 'go global' strategy, despite the continuing global economic slowdown, said company executives.
"We have prioritized the brand's globalization and targeted consumers from the younger generation - these are our brand's foremost strategies," Changyu General Manager Zhou Hongjiang told China Daily.
Yantai-headquartered Changyu, which has a 124-year history, saw its revenue peak at 6 billion yuan ($983.6 million) in 2011 and then level out to 4.16 billion yuan in 2014.
Last year Changyu saw its revenue hit 4.65 billion yuan, up 12 percent year-on-year.
During the first quarter this year, the company's revenue continued its upward trend since 2015, reaching 1.88 billion yuan, up 3.12 percent year-onyear.
The growth in 2015 was achieved in spite of both slower overall economic growth and the entry into the Chinese market of foreign wine producers following the lifting of some tariffs on wines from certain countries and the reduction of tariffs on those from others, this year.
According to Zhou, Changyu will not be hampered by the economic slowdown in its efforts to 'go global'.
Last year, it completed the acquisition of a majority stake in Spanish wine company Marques del Atrio for an undisclosed amount.
The company also bought a 90 percent stake in Bordeaux-based Chateau Mirefleurs for 3.33 million euros ($3.54 million) in 2015.
Changyu's moves come on the back of a concerted buying strategy in the United Kingdom, Germany, and other European channels between 2010 and 2014, and the company is set to step up its momentum.
In addition, company insiders indicated that it will continue to buy stakes in winemakers in Chile, Australia and France in the near future.
The company general manager said: "Changyu will expand its winemaking scale, market share portfolio and, in the meantime, its overseas resource integration. In addition, international market channels are on an upward trend."
According to Zhou, Changyu's global vision and moves are more traditional than innovative and carries the reputation of the domestic wine industry.
"The growth of Changyu represents the history of China's wine industry as a whole," he said.
The winemaker, which was established in 1892 by Zhang Bishi, takes its name from his surname Zhang (Chang) and the Chinese character Yu, which means prosperity.
Toward the end of the Qing Dynasty (1644-1911) the company built Asia's first underground chateau, the Grand Cellar, in Yantai in 1894, at the behest of the emperor, Guangxu.
In 1914, three years after the Qing government was overthrown, Changyu shipped its wine overseas. The wine hit the markets of Southeast Asia, North America and the Middle and South Americas, Zhou said.
In addition, Chinese-produced Cabernet Gernischet has allowed Changyu to write a new chapter in the variety's global history, Zhou said.
In Changyu's museum, visitors can still see the emperor's original, handwritten decree, as well as modern China's founding father Sun Yat-sen's handwritten inscriptions to the company.
They can also marvel at the visionary strategies of founder Zhang Bishi as he sought to expand the company overseas.
The winery has had a renaissance in recent decades.
Chateaus and vineyards have been built in Yantai, Liaoning, Beijing, Shaanxi, and the Xinjiang Uygur and Ningxia Hui autonomous regions since 1996.
The company held the groundbreaking ceremony for its new production base in Yantai in 2012, and it is expected to go into operation late this year with a production capacity of 400,000 tons annually.
Now Changyu, which has the largest share of the Chinese wine market, can be found in leading overseas retail markets and stores, including Waitrose in the UK, UK royal wine seller BBR, hotels such as Dubai's seven-star hotel Jumeirah and restaurants in the US city of Beverly Hills.
"Chinese people's spending on wine ranks top in the world, but the Chinese wine market still has enormous potential. Imported wine has, due to reduced and, in some cases lifted tariffs, brought fierce pressure for us, but I expect to see benign competition, because only in this way can the market become stronger," Zhou said.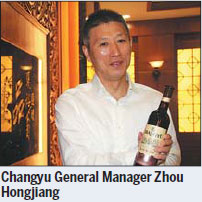 (China Daily 07/13/2016 page12)