Yantai CIMC shipyard completes deep sea rig assembly
Updated : 2016-03-31
(chinadaily.com.cn)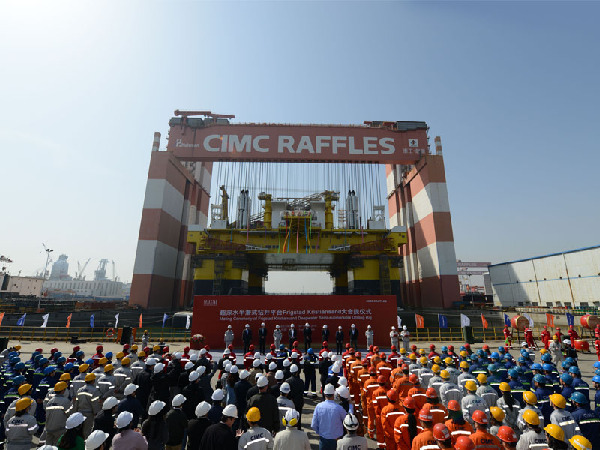 The second ultra-deep-water semisubmersible drilling rig mating by CIMC Raffles' "super crane", Taisun. [Photo provided to chinadaily.com.cn]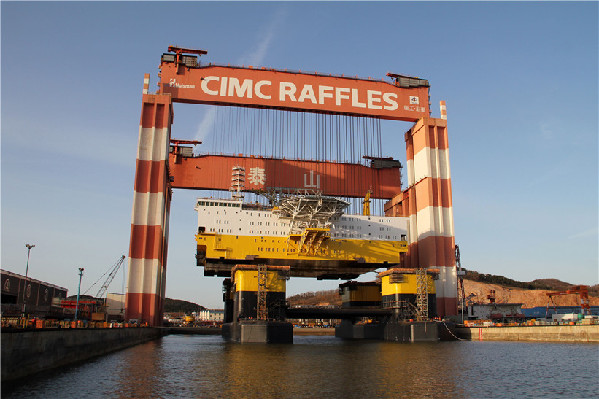 The second ultra-deep-water semisubmersible drilling rig mating by CIMC Raffles' "super crane", Taisun.[Photo provided to chinadaily.com.cn]
The Yantai CIMC Raffles shipyard finalized the assembly of its second ultra-deep-water semisubmersible drilling rig for Frigstad, a provider of engineering services to the offshore oil and gas industry, March 30.
The Frigstad Kristiansand is one of the world's deepest operating and drilling semisubmersible rigs, and can be operated up to a depth 3,658 meters with drill able to go down to 15,250 meters. The rig is equipped with the dynamic positioning system DP3 has been checked and tested by Norwegian engineering classification experts Det Norske Veritas (DNV). The Frigstad Kristiansand adopts the basic design of the Frigstad D90, a similar drilling unit, and the production designs were completed by CIMC Raffles. Learning from from previous rigs such as the Frigstad Deepwater Rig Alfa, CIMC Raffles was able to make some improvements on the project, reducing the production time 2.5 million working hours.
It is the 13th time that CIMC Raffles has used its world record-breaking Taisun Crane to mate two structures together. The crane, named after the biggest mountain of the Shandong province, is the world's strongest crane and has a safe working load of 20,000 metric tons.