Photo collection to mark friendship between Yantai and S. Korea
Updated : 2015-05-14
(chinadaily.com.cn)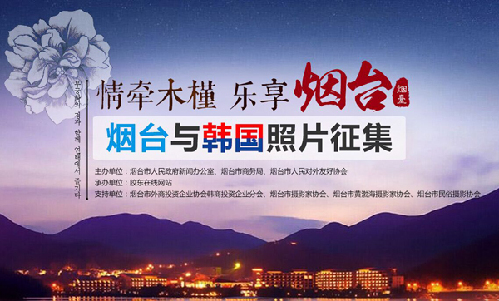 The coastal city of Yantai in Shandong province launches a photo collection campaign on May 8 to document the friendly ties between Yantai and South Korea.[Photo/JiaoDong.net]
The coastal city of Yantai in Shandong province launched a photo collection campaign on May 8 to document the friendly ties between Yantai and South Korea.
Photos submitted to the competition are required to focus on the life of South Koreans in Yantai, the life of Yantai people in South Korea or the development of South Korea-based companies in Yantai. Providing the photos follow the correct focus, they can cover areas of economy, culture, society, life, education, sports and public welfare.
The photo submission period runs from May 8 to 17. Experts and internet users will be invited to select their favorites and vote for the entries between May 18 and 28. The results will be announced between May 28 and 31.
The organizing committee has set a total of 11 prizes, including one gold medal, two silver medals, three bronze medals and five popularity awards. There will be cash prizes totaling 10,500 yuan ($1,717).
Participants wishing to submit their photographs can enter via the website at http://www.jiaodong.net/special/2015/ytphoto/ or through email at jdnews@126.com.
Yantai and South Korea have maintained a close relationship for years. To date, Yantai has established sister city relationships with five South Korean cities; approximately 50,000 South Koreans live and work in Yantai.
Edited by Jacob Hooson