Yantai-produced cruise makes maiden voyage to Taiwan
Updated : 2015-04-28
(chinadaily.com.cn)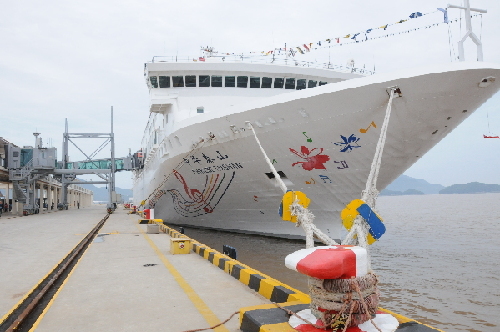 Chinese Taishan, an international luxury cruise ship carrying about 900 passengers, makes its maiden voyage from Zhoushan, in Zhejiang province, to Taiwan on April 24, 2015. [Photo provided to chinadaily.com.cn]
The international luxury cruise ship Chinese Taishan carried about 900 passengers on its maiden voyage from Zhoushan, a city in Zhejiang province to Taiwan on April 24.
Produced by Shandong Bohai Ferry Co, in Yantai, Shandong province, Chinese Taishan was put into service on August 16, 2014, serving tourism routes to South Korea and Japan. To date, the ship has carried more than 30,000 passengers.
Lasting for six days and five nights, the first voyage to Taiwan will sail around Taiwan and will stop at four coastal cities, including Taichung, Kaohsiung, Hualien and Keelong, to offer mainland tourists a new chance to travel around Taiwan.
The ship includes restaurants, tea houses, physiotherapy rooms and outdoor swimming pools. It also provides customized services such as wedding photography.
Edited by Andrew Ancheta