Professionals drawn from overseas to start businesses
Updated: 2018-11-22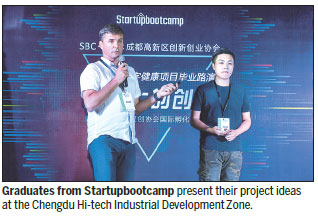 The Chengdu Hi-tech Industrial Development Zone is increasingly attracting professionals and experts from overseas to start up their own businesses, according to its officials.
One of the returned overseas Chinese who has realized his career dreams is Huang Yong, a graduate from the University of Sydney who holds a doctorate in phytopathology, or the study of plant diseases.
Huang founded biotech company Tepu in the Chengdu high-tech zone in 2000.
He said he now still feels uplifted when recalling the moment he made up his mind to return to China. "The year 2000 was when I turned my plan into action," he said.
To better serve budding entrepreneurs like Huang, the high-tech zone's administrative committee established a startup industrial park dedicated to overseas Chinese in 1998.
In 2000, the high-tech zone unveiled another startup park, designed for doctorate holders.
Zou Xueming, founder of AllTech, a medical systems manufacturer, also spotted Chengdu as the start of his career journey.
Among the first beneficiaries of government-sponsored overseas educational programs, Zou said he felt encouraged to return to China to serve his homeland.
In the 1990s, he made inspection tours around China, looking to start his business back in the country. Yet due to the difficulties in seeking capital and partners, he had to quit his startup plan.
As Chengdu was riding high on China's west development campaign, Zou decided to seek opportunities in the region.
A trip to Chengdu in 2005 prompted his decision to choose the city as the place to realize his dream.
"The Chengdu high-tech zone has offered great support to my project, starting from the business residence," he said. "I can feel a burning passion for entrepreneurship here."
His company began in 2005 to develop and research magnetic resonance products that featured proprietary intellectual property. His team's R&D efforts broke the monopoly on core technologies in the Chines market held by foreign industrial giants for more than 30 years.
Zou said he has no regret about the decision to found his startup in the Chengdu high-tech zone.
Chen Yuanwei, who founded Hinova Pharmaceuticals at the zone in 2013 and who focuses on research into innovative drugs, said he was impressed with the high growth of the zone over the past five years.
A growing number of business incubators and startup parks have emerged there, attracting more and more professionals in various fields, Chen said, adding that he could see the zone's potential from its growth pace.
Government data showed that by the end of May, the high-tech zone had attracted more than 4,000 experts and specialists in innovation and entrepreneurship, who founded more than 1,760 companies.
Of the high-level professionals drawn to the zone, the number of doctorate holders from overseas universities has topped 1,000 and six are Nobel laureates.
This year, the local authorities launched a new recruitment program named after Chengdu's famous resident, the giant panda.
The Golden Panda program focuses on fostering and bringing in professionals and helping them capitalize on their expertise with their businesses.
The zone's goal is to attract 20,000 high-level professionals in innovation and startup businesses in 2025.