Most attractive Chinese cities for expats announced
Updated: 2018-04-26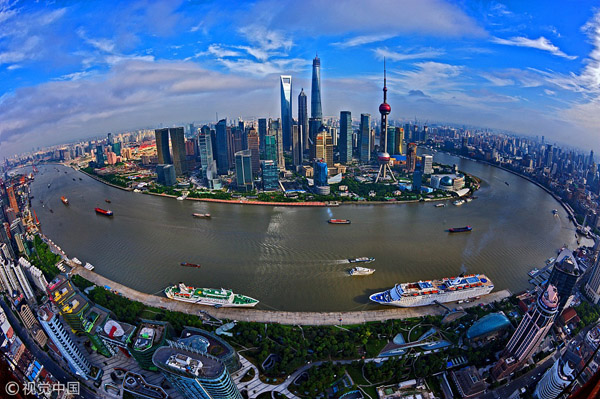 An aerial photo of Shanghai's Bund area. [Photo/VCG]
The results of the Amazing China 2017 poll, an annual survey for foreign expats to vote for their favorite Chinese cities, has been announced recently.
Shanghai was chosen as expats' favorite city to work and live in, for the sixth year in a row. Beijing, Hefei, Qingdao, Shenzhen, Hangzhou, Suzhou, Chengdu, Nanjing and Guangzhou followed on the list.
The survey, now in its eighth year, is the only one to use foreign experts as participants.
The Amazing China 2017 poll was conducted from November to February. Results were analysed from 4,066 signed votes from foreign experts in China and 25,494 votes from internet users.
Shanghai chosen as expats' favorite city sixth time in a row
Shanghai has been on top of the list since 2012. This year, Shanghai was selected as first in four indexes: policy, governmental environment, working and living conditions.
This may be attributed to local policies, as Shanghai has put great emphasis on attracting foreign talents. For more than a year, Shanghai has been implementing its talent development mechanism reform.
The effect of the reform is remarkable, with 215,000 foreigners now working in Shanghai, accounting for 23.7 percent of all foreign expats in China.
Dennis Raymond John Scott, a Chinese Friendship Award recipient who also is on the expert voting panel for this year's Amazing China poll, used to work for world class airplane manufacturers like Boeing, Airbus and Bombardier Inc. He is now working in Shanghai for the Commercial Aircraft Corporation of China.
"Choosing the Commercial Aircraft Corporation of China is a new challenge for me, I'll do whatever I can to provide the company with the most advanced idea and techniques," Scott said.
"I'm only up for Shanghai, which is very nice in both the working and living environment. The city is neat, safe and has very convenient public transportation systems," he said.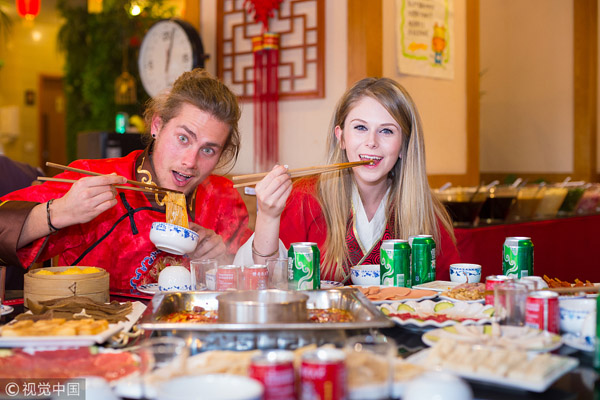 Foreigners taste hotpot in Chengdu, April 25, 2017. [Photo/VCG]
Chengdu made to the top 10 for the first time
As an important city in western China, Chengdu ranked first among the 2015 and 2016 western capitals, but was weaker compared with eastern cities, and was excluded from the top 10.
This year, however, Chengdu was selected as the eighth most attractive city in China, surpassing first-tier cities like Shenzhen and Guangzhou in areas including the effectiveness for protecting the rights of expats and convenience on evaluation policies.
Michael Reed, an expert from the voting panel who's on the list of National "1,000 Talent Plan for High-level Foreign Experts", wrote of his vote, "It's the nice living conditions, friendly people, and convenient public transport, together with the amazing food here that lure me to stay."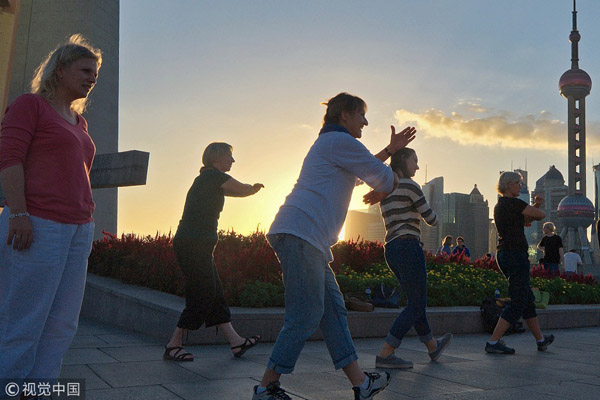 A file photo of foreigners playing tai chi in Shanghai. [Photo/VCG]
Seniors willing to stay longer
According to the survey, willingness to stay in China increases with age.
Expats under 30 are more inclined to reside in China for the short term: about half of them plan to stay for one to three years, while those over 30 are willing to stay longer.
For age groups of 30-39, 40-49, and 50-59, the percentage of choosing to stay more than five years in China are 34.9, 51.2 and 57.6, respectively.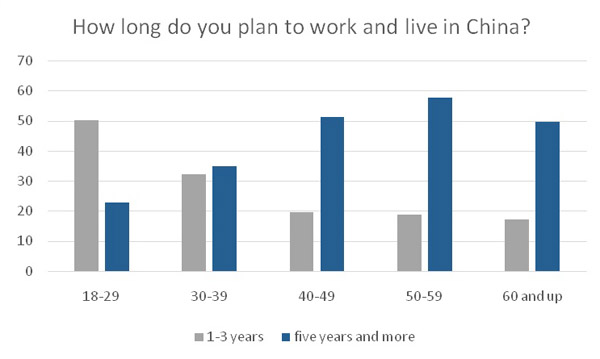 [Graph/chinadaily.com.cn]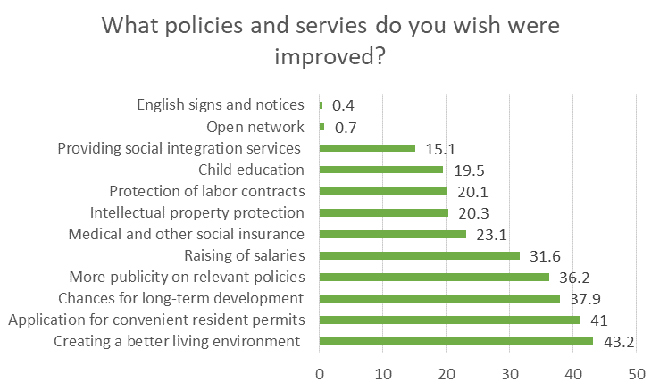 Note: Multiple answers were permitted in this question. [Graph/chinadaily.com.cn]
Expats call for better living environment and more opportunities
When asked about the policies and services they wish were improved in China, 43.2 percent of expats think the Chinese government should create a better living environment for foreigners in China.
Application for convenient resident permits accounted for 41.0 percent, and providing opportunities for long-term development accounted for 37.9 percent.
Among different age groups, more than 43.1 percent of foreigners who are between 18 to 29 wish the Chinese government would provide long-term development opportunities for them; for those above 30, the wish to have better living environment weighted the most, and the application for convenient resident policies is mostly welcomed by people over 50 years old.
Meanwhile, roughly 70 percent of foreign talents approve of the improvement on procedure efficiency by the Chinese government.
Note: Multiple answers were permitted in this question. [Graph/chinadaily.com.cn]
Attracted by jobs, influenced by city's economic prospects
When asked about the most attractive factor of working in China, the country's abundant job opportunities topped the list.
China's job opportunities and economic prospects accounted for 55 percent and 47.9 percent respectively, policy openness and living conditions of expats already working there were selected as most attractive factors.
What also matters for them are easiness of living, history and culture of the city, and convenient border entry and exit, followed by environment and pollution.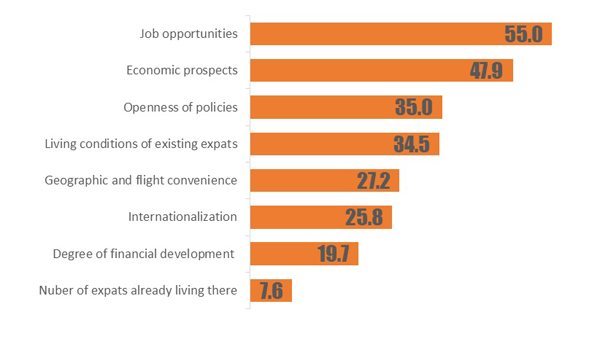 [Graph/chinadaily.com.cn]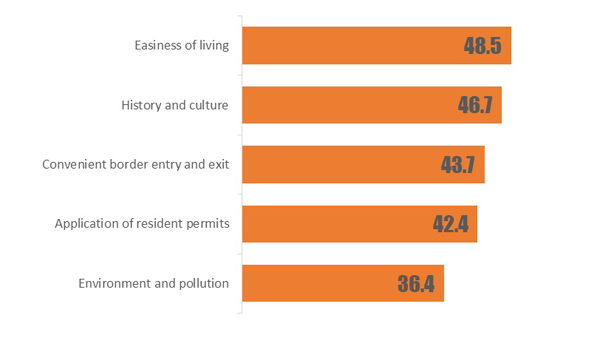 [Graph/chinadaily.com.cn]
Mostly satisfied with the salary
Nearly 70 percent of expats expressed satisfaction with their salaries in China.
There was a geographical difference as well. Expats from Hangzhou (83.8 percent), Hefei (80.1 percent) and Guangzhou (76.7 percent) expressed the strongest satisfaction.
In recent years, implementation of convenient working permits and visa system for expats boosted government's effort on policies, and cities' working and living conditions.
"Full implementation of convenient work permits and visa for expats builds competitive platforms for attracting international talents. We must vigorously create a good environment for expats to innovate and start businesses in China," Zhang Jianguo, deputy minister of Science and Technology and director of the State Bureau of Foreign Experts said.
The expert panel this year had 68 members, including Nobel Prize in Chemistry laureates and Chinese Friendship Award recipients.
The survey was co-conducted by the China Society for Research on International Professional Personnel Exchange and Development and International Talents magazine. Data analysis of the survey was provided by the organisers and Dataway.