UK teacher aids migrant child education
(China Daily)
Updated: 2016-08-24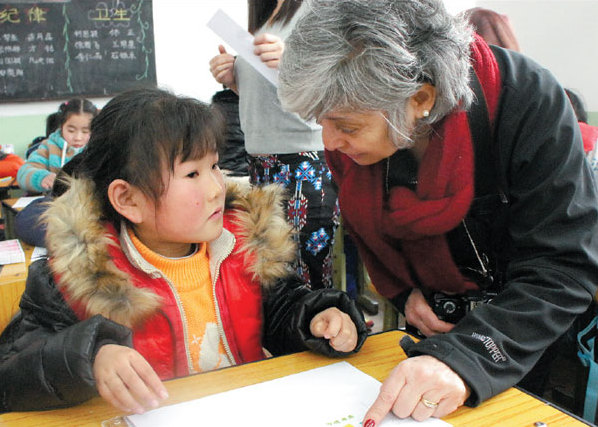 A British woman in Beijing finds her niche making schools for migrant children better places to learn. Belle Taylor catches up with a dynamo.
It's a Friday afternoon and Helen Boyle is waiting impatiently in a small office at a Beijing primary school for her team of volunteers.
When the helpers troop in - a mix of expatriates and one local university student - she wastes no time in distributing art supplies and breathlessly giving orders. Things are running a little behind schedule and Boyle, not one for tardiness, has no time to let any more precious classroom time slip away.
On this day, Boyle's charity, the Migrant Children's Foundation, is working with three first-grade classes, with children ranging in age from 6 to 9, helping them draw pictures which will be sent to a sister school in the United States, where a class of children have drawn pictures to be sent to China. The volunteers walk around the classroom helping the children with their pictures and telling them the names of what they are drawing in English - kite, family, rainbow, panda.
Boyle goes in and out of the three classrooms, checking that the lesson is progressing smoothly, passing out pencils and giving rapid-fire instructions in English and Chinese.
This is Boyle in her element, doing grassroots work for her charity, the Migrant Children's Foundation.
Boyle has no high-rise office and she spends little time soliciting for money from big donors. Her foundation is focused on volunteering, and driven by her own indomitable work ethic.
"I have been involved in charity in the UK where you just give money, but you don't know where it's going," says Boyle. "I find that here, you can actually see the impact you are having."
As the director and founder of MCF, Boyle organizes volunteers to assist at schools for migrant children, where pupils often have little access to the variety of educational offerings available to many Beijing students. She arranges for native English speakers to give language lessons and has convinced professors from the Royal Society of Chemistry, the Institute of Physics and the University of Science Technology Beijing to donate time to teach at migrant schools. She has also organized donations to pay for much-needed health checkups for the students.
Boyle steps in when she sees a need, from fundraisers to classroom expertise, using her 20-plus years' experience in education as a teacher in the United Kingdom.
Boyle and her husband initially came to China not for charity but to visit their daughter, who was living and working in the country. Boyle took a yearlong sabbatical to travel the nation that had captivated her daughter.
In Beijing, Boyle soon came across a migrant school, set up to serve the children of migrant workers in the capital.
"I was really taken aback by the enthusiasm of the kids. They were so happy and they were so enthusiastic to learn, despite the fact that the resources and condition of the school wasn't anywhere close to what (I) was used to," Boyle says.
With her husband often away for work and her daughter happy and settled in her China life, Boyle realized helping at migrant schools is a good way to channel her energy.
"I wanted to give something back and this is how it started," she says.
She soon found a willing band of helpers through her personal networks, and just as her efforts were starting to bear fruit, the call came from the United Kingdom - her sabbatical was over and she had to return to work. She didn't want to go, but her employer declined her request for an extended leave or redundancy. 
"So after a long chat with my family, they said, 'If you enjoy that, why don't you do it?'" she says. "I quit my job and a few months after that I went to UK and I set up the foundation."
After registering MCF in the UK as a charity, Boyle returned to Beijing and began in earnest. Today the foundation works with nine migrant children schools providing a range of services. Boyle speaks excitedly about being able to expose the students to more opportunities such as taking 18 students camping for a week and getting them involved in a prestigious science competition. They won.
"Respect," she says, is what has helped her successfully establish a charity in a foreign country. "We not only respect the law of the country but also respect the families, the migrant families, the schools, the teachers."
The success has not come without personal sacrifices. Boyle gave up her comfortable home in the UK and a good job to dedicate herself to MCF, but says she has been enriched in other ways.
"It made me realize it's only material things. You can be happy with less. Happiness is not what we imagine. We surround ourselves with what we think is important, and when we lose those things the shock of it makes us think initially, 'Oh, my God! What are we going to do?' But gradually we realize it's nothing! We adjust."
This is the philosophy she hopes to instill in the people the foundation works with.
"I don't want to teach these kids and the parents to have more. I want them to learn and understand the true meaning of life is not about what you have," says Boyle.
When asked about the Chinese Dream, she says dreams are dependent on personal backgrounds, but notes that dreams are similar the world over - to give each generation a better life than those that came before them.
"These parents' dreams are that their kids will have the opportunity to become somebody and do something," says Boyle.
China has also allowed her to achieve her personal dreams and enjoy a new lease on life.
"I find China, Beijing especially, very inspiring," says Boyle. "There is a buzz here that makes you feel alive. This is the kind of thing I was looking for and I am very lucky that at my age I found it."
What we do
SAFEA is responsible for certifying foreign experts to work in the Chinese mainland and organizing overseas training for Chinese technical and managerial professionals.