Canadian author pens China book at 98
(China Daily)
Updated: 2016-08-24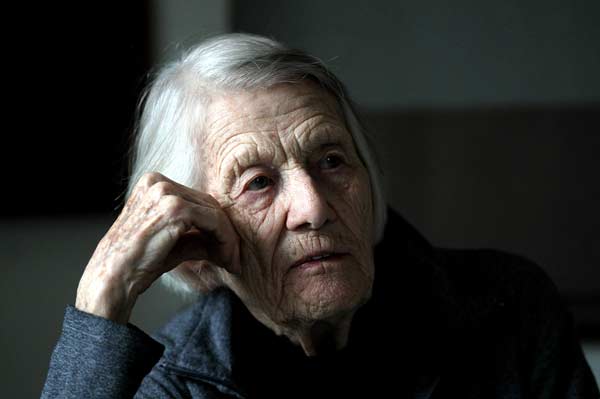 The daughter of Canadian missionaries has become a veteran 'foreign expert' in China-an author with a respectful and respected view of the country's socialist evolution. China Daily features staff reports.
Many people would be happy just to be around at age 90. Then there is Isabel Crook, who published yet another book a few months before turning 98. Crook began gathering material for Prosperity's Predicament: Identity, Reform and Resistance in Rural Wartime China in 1940, but didn't start writing it up until four decades later. In the intervening period, the Canadian woman started a family, earned a doctorate and focused on teaching English in China - seeing it as her part in nation-building alongside the Chinese Communist Party.
A Party representative approached Crook and her British husband in 1948, asking them to remain in China and teach English to future diplomats since "the liberation war would soon be won, and they would be setting up the People's Republic of China", Crook says in an interview at her Beijing home in early spring.
"They desperately needed teachers, especially for English," she says. "We promised to stay for at least a year or two."
They ended up staying permanently, becoming among the first teachers at the Beijing Foreign Languages Institute (which later became the Beijing Foreign Studies University, one of the country's leading foreign-language schools).
From the outset, the couple asked to become "regular members" of the teaching staff, which meant they could get involved in political study and the various movements of the Mao Zedong era, Isabel said in 2008 in her convocation address at the University of Toronto's Victoria University.
They found themselves no longer observers, but "participants in the Chinese revolution at the grassroots level", Crook told the audience.
"We belonged. This is why we stayed."
The couple made their home in the Chinese capital, where their three sons were born, as well as two of their great-grandchildren.
Crook, born Isabel Brown to Canadian missionaries in Chengdu, discovered her own life's mission after meeting in 1940 the man who would become her husband.
"I thought: 'They (my parents) live a much better life than I do, because they had something.' So I wanted to find something to do, a cause," Crook says during the Beijing interview.
"I wrote to my mother and I said: 'Please send me some of those religious books so I could get a cause.
"I read them. I didn't get any cause. And it was just at that time that I met David Crook, and he was a communist. And when he talked ... I liked passion. I decided that my cause would be communism."
They were married in London in 1942. She joined the Communist Party of Great Britain, in which David was already a member.
Inspired by Edgar Snow's account of the Chinese revolution in Red Star Over China, the couple returned to China from England in 1947 to write a book about life in the Communist-controlled areas. Among their book collaborations are Ten Mile Inn: Revolution in a Chinese Village (1959) and Ten Mile Inn: Mass Movement in a Chinese Village (1979), which chronicled land reform in Shilidian, a village in Hebei province, while the civil war was going on.
In the almost 70 years since she came back to her birthplace, Crook has maintained her faith in the ideals of socialism - even after she and her husband were detained for years during the "cultural revolution" (1966-76), and now, as China has embraced a market economy.
"I think she is disappointed, but I think she is also very Chinese in this respect - she takes the long view of things," Constance Post, an associate professor of English at Iowa State University, who is working on Crook's biography, says in a phone interview.
"It's those ideals (of socialism) that she certainly wants to have restored and have people embrace and realize that money is not and should not be the be-all and end-all of life," says Post, who hopes to publish Crook's biography before the elderly woman's 100th birthday in December 2015.
"I think she is very encouraged by a growing skepticism elsewhere in the world about the capitalistic economic model," Post says. "I'm thinking especially of the Occupy Wall Street movement."
Crook, now one of the most senior "foreign experts" in China, has given speeches before state leaders, where she talked about matters of public concern. The issues closest to her heart involve the Chinese countryside, such as its rural preschool education, cooperatives and non-governmental organizations.
As Crook nears a century of life, she'd rather remember her "good luck" in having witnessed some of the most crucial moments in modern Chinese history instead of her achievements. Fellow China researchers, meanwhile, underscore her anthropological work's contributions to the understanding of modern China.
"The thing that Isabel's work lets us get at is: 'What is the connection between those big events and what happens to the daily life of rural people on the ground?'" Gail Hershatter, professor of history at the University of California, Santa Cruz and co-editor of Prosperity's Predicament, says in an online call.
"And Isabel was sitting exactly at the connection between a big historical event and daily life in a village."
Crook provided eye-opening accounts of wartime life in the Sichuan village of Xinglongchang, including its unique marriage and divorce practices and the power held by a local semi-secret fraternal organization.
Israeli doctor aids Sichuan patients
Formula for success
This work is particularly significant, Hershatter says, since at the time Crook and a Chinese colleague conducted their fieldwork, 85 percent of China's population was made up of farmers who were illiterate or barely literate and did not leave written records of their lives.
Crook and her husband (who died in 2000) were among the rare foreign scholars allowed to conduct local-level research on the Chinese mainland between the 1950s and 1970s, Jeremy Eades, an honorary senior research fellow in anthropology at the University of Kent, says in the paper The New Chinese Anthropology: A View from Outside.
"I particularly appreciate her eye for detail," says Anna Lora-Wainwright, an associate professor in the human geography of China at Oxford University, who has also conducted anthropological fieldwork in rural Sichuan province.
"Even though the reality Crook portrays is long gone, her stories of small-town life in Sichuan offer a valuable comparison to ethnographic portrayals of rural China in the present."
In the early 1980s, Crook revisited Xinglongchang village to gather material for another book. She is currently at work on this.
What we do
SAFEA is responsible for certifying foreign experts to work in the Chinese mainland and organizing overseas training for Chinese technical and managerial professionals.