Mandarin for money or the joy of learning
(China Daily)
Updated: 2016-08-19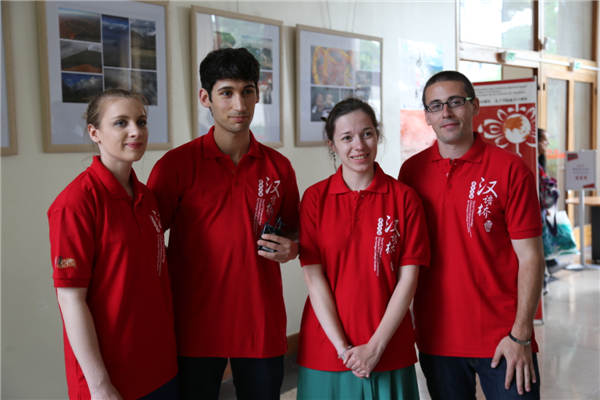 She comes across as shy and reserved at first - but when Victoria Zanello, 23, was on stage taking part in a Chinese proficiency competition in Montpellier, southern France, her confidence with the language and deep affection for Chinese literature was there for all to see.
The student, originally from the northern city of Lille, was first in the preliminary round of Chinese Bridge in France, one of the largest and best-known international competitions of Chinese proficiency for foreign college students.
She also became one of the three finalists representing France who will compete with contestants from more than 70 countries in the final to be held in China this summer.
"I didn't expect it, but I am really grateful for it (winning the top prize)," says Zanello.
Zanello, who is studying Chinese literature for a master's degree at Paul Valery University Montpellier III, says she developed an interest in the language when she was at primary school. Her favorite modern Chinese writer is Shen Congwen, and her undergraduate thesis was about his life and work.
"There was no particular reason (for choosing Chinese) and no one in my family speaks the language," Zanello says. "I just fell in love with it naturally at a young age. The more I learn Chinese, the more appreciation I have for this ancient and beautiful language."
Zanello hopes she can continue to improve her Chinese and expects she and her teammates will deliver even better performances in the final.
Since China Bridge's inception in 2002, it has become an annual competition for the Chinese government to encourage the study of the language globally and an important platform for young non-Chinese to learn about the country and its culture. In France this year, 33 contestants qualified for the preliminary round. They demonstrated their Chinese proficiency and skills thorough speeches and talent shows such as singing, reciting poetry, calligraphy, traditional Chinese dancing and crosstalk.
Solange Cruveille, a Chinese professor at Paul Valery University Montpellier III, says learning Chinese is good for young people in France as it gives them confidence and hope for the future.
"The biggest change in the students is that they have become more open and positive about their future. They tend to complain about the economy and job market in France, but learning Chinese has made them much more optimistic."
Chinese is now the fifth-most popular foreign language taught in French schools, after English, Spanish, German and Italian, and Mandarin classes are now offered in all French academic districts.
Previous Page 1 2 3 Next Page
"I am paying close attention to China's development and I think it is a country with a lot of potential," says Elodie le Gal, a student at University Paris X and a contestant in the Chinese Bridge competition in France. "Being able to speak Chinese will help me find a good job, and I plan to pursue a career in China after I graduate."
While many students in France and elsewhere study Mandarin for economic reasons, some learn the language simply out of interest and pleasure.
"Interest is my best teacher," says Thibault Jourdain, a first-year college student who studies Chinese at the University of Artois in northern France. Even though he has learned the language for only seven months, he can already perform crosstalk and tell jokes in Chinese.
He became acquainted with China when he was 12, he says, when his mother handed him a copy of the Quotations of Chairman Mao Zedong. He wants to be a French teacher in China after he graduates, he says.
Hugo Mathe, a contestant from Aix-Marseille University, says he went to Henan province to learn martial arts when he was 20 and became interested in Chinese culture and language.
"I wasn't able to speak a word of Chinese but later I decided to learn it as I believe it will help me learn martial arts and Chinese culture. More importantly, learning Chinese brings me joy and happiness. It allows me to make new friends in China who I share similar views and values with. Being able to speak another language has broadened my mind and made me more positive about life."
What we do
SAFEA is responsible for certifying foreign experts to work in the Chinese mainland and organizing overseas training for Chinese technical and managerial professionals.