Ukrainian linguist keen to translate Chinese books
(China Daily)
Updated: 2016-08-17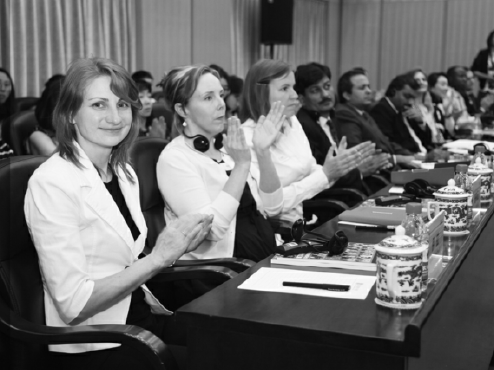 Iryna Yaremchuk is in Beijing on a visiting program for young Sinologists that has been organized by the Culture Ministry and the think tank Chinese Academy of Social Sciences.
"It's a very good chance to meet Sinologists from different countries. We know our problems and learn from each other during such exchanges," says the 36-year-old Ukrainian linguist.
The program, which began on July 3 and ends on Friday, aims to assist foreign Sinologists with their research work as well as let them experience Chinese culture.
It also includes lectures by well-known Chinese scholars such as Liu Xinwu.
Yaremchuk, who has been studying Chinese culture, history and literature, says she was intrigued by Liu's talk, which focused on the Chinese classic A Dream of Red Mansions.
"The book is very interesting, and I really like his (Liu's) way of explaining culture," she says, adding that Liu helped her appreciate the traditional culture depicted in the book.
Yaremchuk, who teaches Persian and Ukrainian languages at the Ivan Franko Lviv State University in Ukraine, says her dream is to become a translator of Chinese literary works for readers back home.
She chose translation of Chinese literature as her project for the visiting program, partnering with the Beijing Language and Culture University for research.
"I am eager to improve my Chinese so that I can translate independently," says Yaremchuk, who developed an interest in translation after working with Chinese students in her university.
She also found that only a few Chinese books had been directly translated into the East Slavic language. Instead, most were translated from Russian.
Yaremchuk says that she liked kung fu movies since a young age but found it hard to get a Chinese teacher in Lviv where she grew up.
In 2013, a teacher was sent from China to teach Chinese in her university by the Chinese Language Council International, a nonprofit affiliated to the Education Ministry. Yaremchuk joined the classes until they were stopped following the teacher's return to China in 2014.
Her university has had a long history of Sinology, Yaremchuk says. Chinese was taught there in the 1950s.
But the teaching of Chinese language stopped for various reasons and wasn't restored until recently.
A breakthrough was made in 2015, when the university started a major with focus on both Ukrainian and Chinese languages. Now that stream has 13 students.
While the university has applied for more Chinese teachers from the language council, Yaremchuk has volunteered to teach Chinese there.
She developed an interest in Chinese calligraphy after she spent a month in Shenyang last year.
Yaremchuk says cultural exchanges between China and Ukraine have increased in recent years. She recalls how local audiences were thrilled by a kung fu performance in Lviv earlier this year. It was staged by a martial arts school from Central China's Henan province and was organized by the Chinese embassy in Kiev and a cultural agency.
She is excited that her university and Beijing Foreign Studies University will be cooperating on research in culture.
What we do
SAFEA is responsible for certifying foreign experts to work in the Chinese mainland and organizing overseas training for Chinese technical and managerial professionals.