China congratulates foreign PhD graduates in agriculture
(chinadaily.com.cn)
Updated: 2016-07-11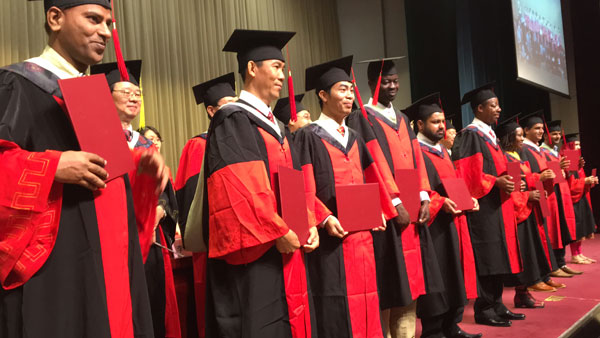 July is the month of graduation. Together with millions of college graduates in China, 38 PhD students from 31 countries got their tassels turned in the graduation ceremony of the Chinese Academy of Agricultural Sciences Wednesday.
Dressed in red and blue academic gowns and caps, Eliamoni Titus Lyatuu from Tanzania, as well as his schoolmates from other African and Southeast Asian countries, are excited to finally finish their 3-year PhD at CAAS. They will soon return to their countries and work in governments and agricultural organizations.
"Three years is not short but time flies. I'd love to spend more time in China to learn from its experience on agricultural and economic growth," said Lyatuu, a 40-year-old graduate who majored in agricultural economics and management.
Lynatuu first came to China in 2003 for his masters degree, after which he has been working with Food and Agriculture Organization of the United Nations. He said that the reason why he came back for his PhD was that he believed the growing China could broaden his mind.
CAAS is one of the scientific research institutions in the field of agricultural sciences in China that confers doctorates, and has trained nearly 200 foreign PhD and Masters graduates since 2008.
"China's agricultural development and techniques rank high worldwide, and we'd like to share our experience with more youth in the Third World and even more Western countries," said Wang Xunqing, director of International Education Office of Graduate School, CAAS, adding that it is welcoming more international scholars and graduate students in agriculture.
What we do
SAFEA is responsible for certifying foreign experts to work in the Chinese mainland and organizing overseas training for Chinese technical and managerial professionals.