Seawater rice fields offer ample harvest
By XIE CHUANJIAO in Qingdao,Shandong ( China Daily )
Updated: 2017-09-29
| | | | | | | | | |
| --- | --- | --- | --- | --- | --- | --- | --- | --- |
|   | | Print | | Mail | | Large Medium  Small | | 0 |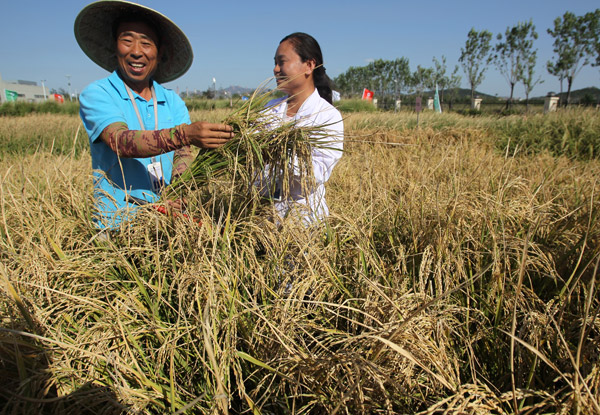 Researchers harvest seawater rice in Qingdao, Shandong province, on Thursday.[Photo by Zhang Wei/China Daily]
New variety said to have potential for providing food to hundreds of millions
The country's first seawater rice fields in Qingdao, Shandong province, were harvested on Thursday.
Of the four types of seawater rice harvested, the one with the highest yield reached 9.3 metric tons per hectare, much higher than expected, experts said.
The other three types yielded 8.2 tons, 7.4 tons and 6.6 tons per hectare, according to a report by a group of agricultural experts who measured the harvest.
"The planting of rice in seawater has seen its first success, and the planting area will be expanded next year," said Yuan Longping-who has been dubbed "the father of hybrid rice". Yuan led the research.
The rice was grown in two fields that were planted in April.
Seawater rice, or salt-alkali-tolerant rice, is designed to grow in tidal flats and saline-alkaline land and can survive after being immersed in seawater.
Yuan and his team set up a research center in Qingdao to develop seawater rice last year.
He said the seawater rice is vital to China's food security. The world has 950 million hectares of land that is saline and alkaline, with Asia accounting for about one-third of the total. China has 100 million hectares of saline-alkaline soil.
Growing rice is the first choice to improve the quality of such soil, Yuan said.
"If 50 percent of the world's rice paddies grew hybrids, rice production would increase by another 150 million tons, and 400 to 500 million more people could be fed," Yuan said.
Yuan's team plans to develop a type of seawater rice that can be planted in 6.67 million hectares of saline-alkaline land around China, which they estimate could boost the country's rice harvest by about 20 percent.
"Sea rice grown on saline-alkaline land has more mineral content than ordinary rice because seawater contains high levels of microelements," said Yang Hongyan, who works at Qingdao's seawater rice research and development center.
"In addition, sea rice grows in a wild environment, is not contaminated by heavy metals and isn't subject to plant diseases or insect pests," Yang said.