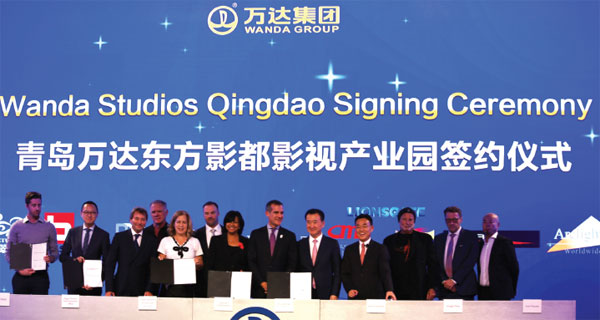 Chinese business tycoon Wang Jianlin (fi fth from right), chairman of Wanda Group, holds a signing ceremony in Hollywood Monday night to rebate 40 percent of expenditures by US fi lm production companies spent in Qingdao Wanda Studios in order to encourage more fi lm companies to do their productions in China. Los Angles Mayor Eric Garcetti (sixth from right) was on hand. Li Ge / China Daily
China's richest man tells studio execs and agency heads what kind of movies his land is looking for
Get back to storytelling in your movies instead of producing so many sequels and films loaded with special effects. China will become the world's No 1 box office so put more "Chinese elements" in your movies. And profit, not politics, is behind his buying spree in Hollywood and his new move to lure movie making to China.
Those were among the messages delivered on Monday evening in Los Angeles by Wang Jianlin, China's richest man and the head of real estate-media conglomerate Dalian Wanda Group, to an invitation-only audience that included US studio executives and agency chiefs, as well as Chinese.
Along with the advice, criticism and praise of Hollywood, the 61-year-old billionaire used the Wanda-hosted event at the Los Angeles County Museum to unveil a 40 percent production rebate to lure movie and television shows to shoot at his new "movie metropolis" in the city of Qingdao. The company has set up a five-year, $750 million fund with the Qingdao government to give the rebates.
"This metropolis will actually increase opportunities for Hollywood," Wang said. "This is an opportunity for Hollywood, not competition for Hollywood."
Wang said his acquisition of US entertainment businesses and his call for more "Chinese elements" in Hollywood movies was motivated by business, not politics. "There is no political point of view," he said. "I am a businessman."
Wang made a similar comment in an interview with The New York Times that was published on Tuesday. Responding to criticism from a member of Congress that Wanda's entertainment buying spree in the US is a propaganda threat and should be subject to more Justice Department scrutiny, Wang said that it's "not like we are invading", adding that Wanda's goal involves "helping" American film companies "to get more market share in the emerging movies market that is China".
He also told the newspaper that Wanda remains interested in buying more Hollywood companies as it seeks growth, including a major studio. "If it is a very good company", he said, there will be "no ceiling" for the price offered.
In his remarks to studio executives, translated by an interpreter, Wang praised Hollywood, saying the Chinese are "students" of the industry, but also said studios rely too much on turning out sequels and films laden with special effects. "We have to make Hollywood go back to storytelling," he said.
And Wang gave some advice. He said China's box office, now number two behind the US, will inevitably become the world's biggest and that filmmakers need to understand how to appeal to the nation's moviegoers. "You cannot try to just make money in the Chinese market and disregard Chinese tastes," Wang said.
aiheping@chinadailyusa.com